COVID-19 SPECIAL ISSUE
A whirlwind, a transformation and a rude awakening - for most of us, the arrival of COVID-19 has been these and so much more. Here are the stories of our trial and triumph.
March 10, 2021

We learned to adjust in some major ways, reflect on how Covid has changed our lives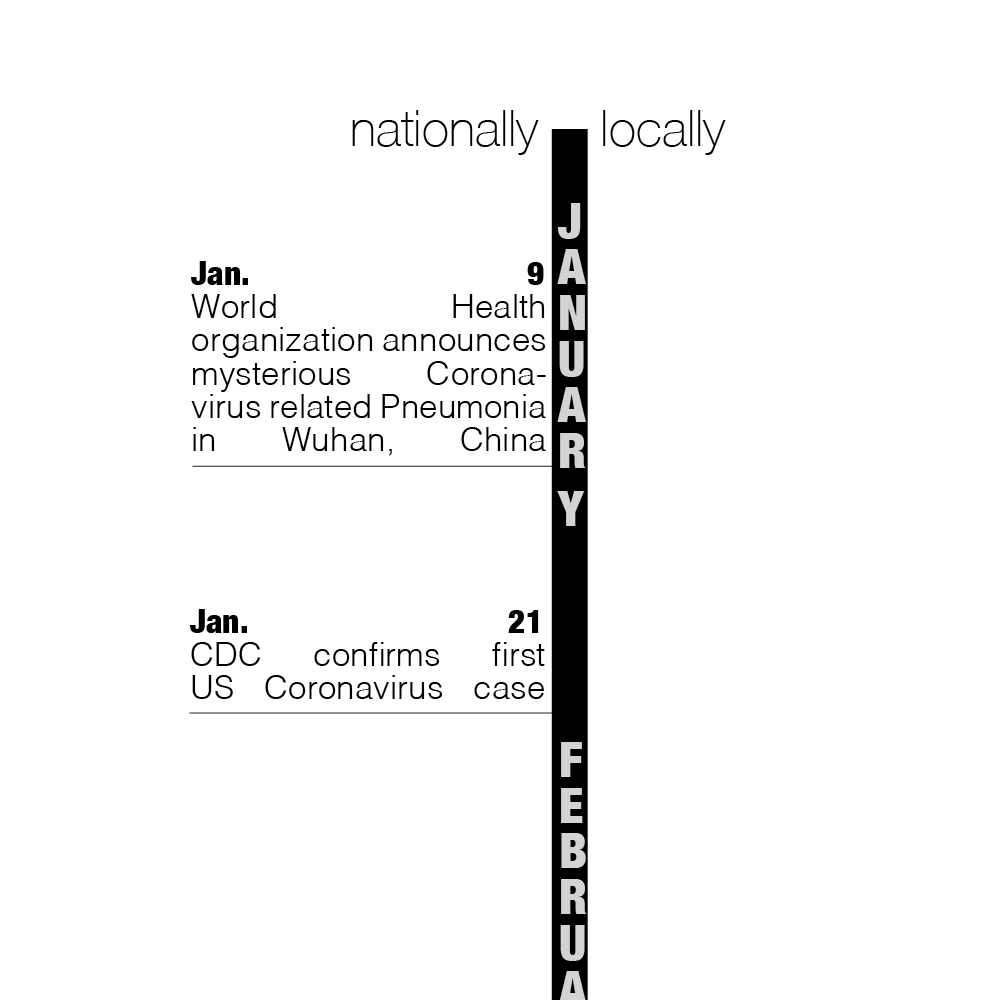 Read about the vocabulary we learned throughout the pandemic year
Covid was a process of learning how to lose, see what students and staff have to say
MRS. KELLY BARNES, ENGLISH TEACHER, LOVING FAMILY MEMBER
"I lost a family member to the COVID-19 pandemic. He was my great uncle Wayne. He was 84, and he was my grandpa's sister's husband. He and my great aunt Betty had always been really close to us because they were really good friends with my grandpa, and I lived with my grandpa. He was a great, genuine, honest and kind person and an important part of my life.
My uncle Wayne actually married me and Mr. Barnes. He was a pastor, so he was the one who officiated the ceremony. When I was a little kid, he married my mom and dad, and my aunt and uncle. He married everybody. That is what he just always did. When I was a little kid, I made him promise that when I got older that he would marry me. Ours was the very last ceremony that he did before he retired from doing weddings. On our wedding day, he was so nervous. He was more nervous than we were on our wedding day. He was so nervous that he jumbled our vows. It was such a genuine loving moment to have him there with me to have him fulfill that promise after all those years."
READ THE STORIES OF THIS ISSUE'S GUEST COLUMNISTS:
We have the ability to make change too
It feels like the world is spinning in the opposite direction
In the midst of it all, we learned how to prevail, read how students and staff did so
NATASHA TRUETT, JUNIOR, ARTIST
"I lost my grandmother the first day of lockdown and eight months laster I lost my father. Through that time I think we went through a whole spiritual revelation because my family has always been grounded and nature connected.At times I felt like the universe didn't want me to be happy and that I wasn't living the life that I was meant to live. There was one day where I stayed up for 24 hours because I didn't feel like sleeping. I would sit and stare at nothing and think about things for hours. I would just listen to music or scroll through TikTok and instagram for no reason and I felt lonely at times.I am extroverted and being inside has wrecked me, I have a physical need to be around people and not being around people makes me feel lonely and angry at myself."
We had to adapt to new ways of communication, see what Crier has to say
LANA SALAHIEH, EDITOR-IN-CHIEF, SENIOR
"I don't think anyone could have imagined where we'd end up today. A year ago, I was burnt out. Junior year carried so much weight to my life –  I was lifting fifty pounds of APUSH readings a night, iron pumping several AP lit essays a week, bench pressing the AP psych master terms and concepts list throughout the semester, bulking on extracurriculars. The thing is, I'm no bodybuilder.
This struggle might sound familiar. Maybe you too spend hours of your life bracing yourself for the cold, hard realities that adulthood has to offer: the piles of financial ruin and student debt from college, living on nothing but ramen noodles and pizza crusts for the next four or more years of our lives. As a senior, it's on my mind constantly. How will I balance studying for my college courses, an inevitable part time job, participating in clubs, and socializing with an entirely new set of faces? How can I possibly be expected to master this way of living in the future when I can hardly get by now?"                      
READ CRIER'S PERSONAL NARRATIVES:
No one knew what was going to happen
I'll never forget how desperate I felt
This pandemic has forced me to experience the fear of loss
A roller coaster ride of emotions
I am honestly so exhausted from trying to appear strong
Everything is falling apart at the seams
Losing motivation and endurance