Upcoming events
Charity volleyball tournament
Student Government's Charity Volleyball Tournament will be Nov. 7 from 6-9 p.m. It is partnered with the annual food drive,  which all donations will be given to the Greater Hammond Food Pantry.
To play, each team captain must pick up paperwork from club sponsor Mrs. Kathleen LaPorte's room, N191. Each player must donate $10 worth of donations to participate.
New mentorship program
New this year, Mrs. Kristin LaFlech, business teacher, began a mentorship program, Start-Up Studio, with her new venture development and entrepreneurship capstone classes. Each Thursday, Mrs. LaFlech has representatives from businesses she has connections with and those who signed up through a Google Form to come into class and partner up with student groups and individuals.
Stay connected
Blessing bags accepting donations
Cardboard boxes worth of commodities from knit beanies to tissue packs line the back of FACs teacher Ms. Abigail Brosseau's classroom as students send in donations for Blessing Bags. The team will gather all their items and donate to shelters, including A Little Bit of Heaven and Primo Center For Women and Children in Chicago. All donations are heartily accepted in Ms. Brosseau's room at S120 until next Friday.
Nadia Cortes, junior and founder of the organization, fuels other students to contribute to the cause.
"I don't think students realize how much a little goes a long way," Nadia said. "I can talk to as many people as possible, but at the end of the day it's all in the way they view this situation, and the gift of giving that they have."
Halloween halls a success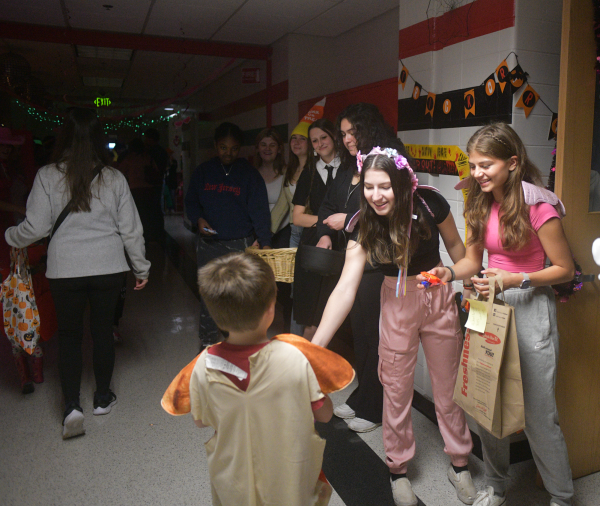 Reminders
Because of election day, Nov. 7, all students will have an asynchronous elearning day, where students will join live teams meetings for each class.