State of the court
Girls Volleyball talks about their efforts in qualifying for state
Currently ranked fourth in state, Volleyball continues to bring home victory. The season offically ended with a record of 30-2, with postseason having started on Oct. 17. The girls now prepare themselves for regionals, the first match of which is Oct. 24.
"We are practicing every day besides the weekends for close to three hours, freshening up on our skills and preparing for the games ahead," Emma Miles, junior, said.
Brushing up on skills and techniques after a long break from quarantine is important to success, but being informed is just as important. The girls study their opponents to gain a better understanding of the challenges to come, and expand their skill sets accordingly.
"We are going to be studying some tactics of the teams that we will be facing," Nicole Sullivan, junior, said. "We figure out what can be done to overcome most of the obstacles we encounter."
As a reward for their hard work, the team has had a continuously triumphant season. That includes going up against some notably tougher schools more regularly.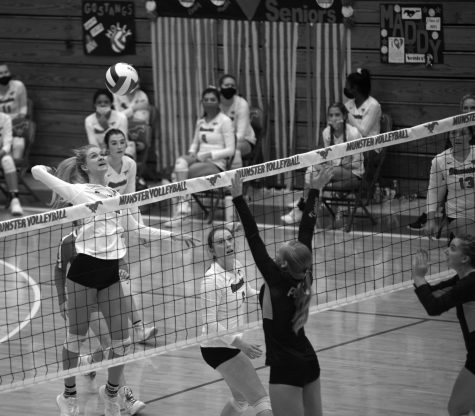 "We just started to see some more competitive teams like Penn and McCutcheon, and we were very successful during those matches," said Nicole.
While as of now the girls are officially qualified for state, in the period before confirmation they were already confident in their skills and determination.
"This year, everyone on the team is putting in their full effort, not only to help themselves but to help everyone," Nicole said.
The The main obstacle for the girls to overcome this season is covid-19.  Precautions have been taken already to help ensure that the season continues to last. Social distancing remains a priority best as they can on the court, and temperatures are taken every day. Masks, are not to be left out the supply list.
"Your mask always has to be somewhere on you during practices. Some girls tuck it in their knee pads." Emma said.
Although time to adjust was needed, it is now the normal for our lady mustangs, and normlaicy reassures them they are doing everything they can to keep safe and the matches going. 
"Any changes that we have to make that can help our team continue to have a season is a change that I and everyone else is willing to make," Nicole said.