Scanning the busy field for junior Cece Mason, Brooklyn Kuna, junior, throws the football down the right side of the crowd of girls. Ponytails and flag football belts whipping through the air, she catches the ball and sprints to the endzone. For the first time since 2019, Student Government organized a powderpuff game, which is a flag football game between junior and senior girls. With crowds of students in pink attire rushing the field after the juniors won the game 28-6, the team celebrated by spraying water all over the field and gathering in a huddle. Some players, specifically junior Josie Speckhard, predicted the outcome of the game at the first practice Sept. 18.
"I thought the juniors were going to win, we have lots of spirit and game knowledge compared to the seniors," Josie said. "We really wanted to win."
Although the original idea was for the football team to be the cheerleaders at the game, they were not particularly thrilled at the idea and decided against it. Coached by senior football players George Dovellos, Mathew Opat, Daniel Elias and Jackson Collard, the girls had three practices at Frank H. Hammond Elementary School before the game. Primarily focusing on general rules, the coaches had the girls run scrimmages and learn the basics of football, like how to throw and catch.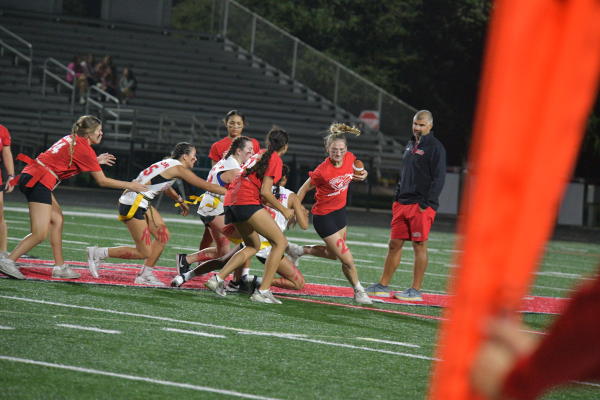 "My favorite part was the overall atmosphere," Cristian Silva, senior and referee, said. "No one was taking it crazy serious, but it was still super fun, even from the refs' perspective. The celebrations [after scoring] and stuff were hilarious."
Spending most of the game dodging other players while sprinting down the field, Kylee Marshall, senior, believes that her track skills helped her team out as the senior team running back. She felt that learning the plays and correctly executing them was their biggest struggle.
"During practice, we had them down but once we got against the other team, we kind of fell apart," Kylee said. "But my favorite part was our energy level and how positive the team was."