Girls' Tennis gears up for Sectionals May 17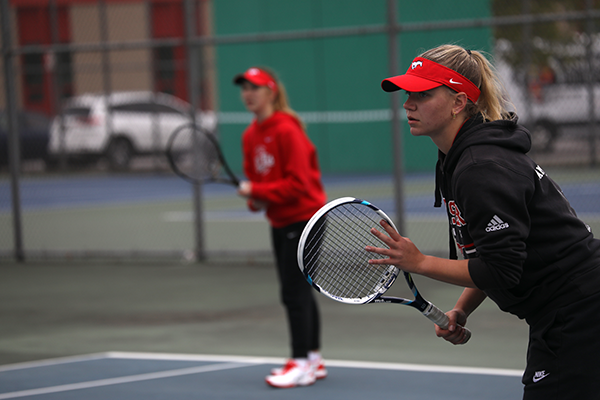 Walking onto the court at the Warsaw tournament April 15, Annie Fuller, sophomore, and Tess Glombicki, junior, looked up at their over six foot opponents. After losing both sets to Warsaw at the Angola tournament last year, they were determined to win. An unlucky draw to play them in the second set instead of finals meant they had to win to even be considered for finals.
Although down 6-7 in the first set, the doubles partners kept their composure and won the second set 6-3 and a tie breaker 10-4. Celebrating with their signature chest bump, Fuller and Glombicki were the only team to beat Warsaw in the whole tournament, along with #1 in doubles.
"We went into that match like we were going to win, and our mindset really brought us off to a strong start," Fuller said. "We critiqued our strategy and worked every point, eventually beating our previous foes. But even after winning our first match, nothing compares to how insane our second match truly was versus Warsaw. We kept our composure and played strong. Biofreeze was a lifesaver."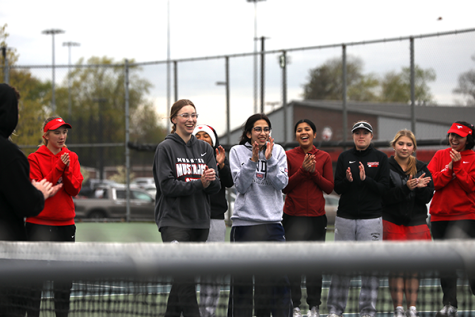 Currently, girls' tennis team's record for Conference is 4-0. At practice, the team has been working on how to strategically win points against their opponents, such as practicing various hitting patterns to win shots. Also in preparation for Sectionals May 17, the girls have been focusing on consistency with their hits, making sure to not give up a shot. If they advance to Regionals May 23, the girls' biggest goal is to beat their rivals Crown Point.