Change to look out for: A look into various changes planned for next school year
From construction to Student Government elections, MHS anticipates various changes for next year.
Construction starts soon
The classroom renovations that took place last summer will continue over this summer and the next fall. Many teachers in the north will need to completely pack up their room by the end of May 25, the last day of school, as construction workers will be starting that afternoon. These classrooms are planned to be complete by August 1.
Also by that day, the second set of classrooms will begin construction, which is planned to be complete by Thanksgiving. These teachers will have to teach classes in the media center or in empty classrooms until their classrooms are finished.
The classrooms will get new flooring, HVAC, lights with dimmers, cabinets, furniture and paint. Along with the classrooms, the labs will also be renovated with movable counters, allowing a flexible layout. The sinks and gas will be in the permanent counters lining the walls of the room.
The construction dates of the rest of north are to be determined. Over the summer, the lights in the baseball and football fields will also be replaced.
The first round of classrooms are:
N148, N150, N177, N179, N180, N184, N186, N187, N188, N189
The first second round of classrooms are:
N142 (biology lab), N144, N170, N172, N173, N174, and N178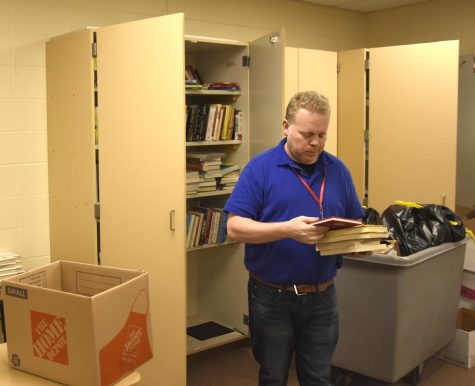 Canvas replaces Blackboard
Instead of continuing to use Blackboard for class agendas, announcements and assignments next year, Munster schools will begin to use Canvas.
The new website for classes will be

 

http://munster.instructure.com
Referendum passes
The Munster education referendum discussed in Crier's previous issue passed with a 72% vote on May 2. This will hopefully allow for continued improvements in both Munster's education quality and facilities.
"Our community is fantastic," Mr. Bret Heller, superintendent, said to the NWI Times. "They all understand very clearly that the ability for our school district to be very good and its reputation is not only good for our kids, but it also continues to improve the value of our homes in this community."
Pre-AP class to begin
A major change to next year's curriculum will be the replacement of honors classes, and the introduction of Pre-AP classes. Pre-AP classes are designed make it easier for students to transition into AP classes.
Where students had to qualify for honors classes, Pre-AP classes will be eligible for all students.
Schedule changes to block
Starting next school year, MHS will implement a block and 7-period hybrid schedule. Although the schedule has not yet been finalized, the proposed schedule consists of Wednesday and Thursday as block schedule, and Monday, Tuesday and Friday as a traditional 7-period schedule.
New Student Government President & Vice President elected
For next school year, Kiki Petrovic, junior, has been elected president of Student Government alongside George Dovellos, junior, who will be vice president. They hope to:
Host another charity tournament in addition to the winter volleyball tournament.

"We had great results from the volleyball tournament and ended up donating around $2,000 worth of goods, and I want to see that again," Kiki said. "Not only is the event fun for the students, but it allows MHS to use its resources to make a difference in the world."

Organize Powder Puff football, which is when junior and senior girls play a flag football game against each other. This would most likely take place next fall and include practices and a game.

"I was really excited and proud that the student body believed in Kiki and I to really make a difference at MHS," George said. "It was really cool to see we had a lasting impression on our peers."

Implement other ideas, such as fixing the water fountains, club representation, student involvement in the morning announcements, student-voted staff of the month awards, Valentine's Day candy telegrams and quarterly treat days.