Building a future at the Career Center: A look into education at the ACC
In the back of a blaring ambulance, Jillian Childs, senior, arrives at the scene of the car accident. Thankful that the patient was not injured, she treated the patient just like any EMT would. With other EMTs beside her, she checks their vitals, assesses them for any possible head or internal injuries, and luckily does not have to transport them to the hospital.
Jillian has been able to help with transport and ambulance shifts, take vitals, perform EKGs for patients and complete lab work in the ER within the EMT program at the Hammond Area Career Center (ACC). The ACC provides 15 career learning classes, from cosmetology, emergency medical devices, criminal justice, culinary, construction and more. Going into junior year, students have the option to apply for the ACC. The MHS students who attend leave after their third hour and are bussed over to the ACC building, which is about 15 minutes away, for the remainder of the school day.
"I have never enjoyed a class more in my life," Jillian said. "Mr. Ryan Cogdill has been an amazing mentor who offers many opportunities for his students. While the course is difficult, it has given me a big advantage for my future in studying nursing in Florida post-high school, and I am now a licensed EMT in Indiana and Florida because of the program."
Sixty-two Munster students currently attend the ACC. One of the students who attend, Keira Trimolt, junior, appreciates the more hands-on learning that the ACC demonstrates in comparison to MHS.
"I feel a lot more awake and interested when I am at the ACC," Keira said. "The hands-on learning style of the ACC is better suited for me and has allowed me to explore the criminal justice field more immensely with this style. I have been on many trips, including to local jails and the Lake County dispatch center, that have greatly expanded my knowledge on the field as well."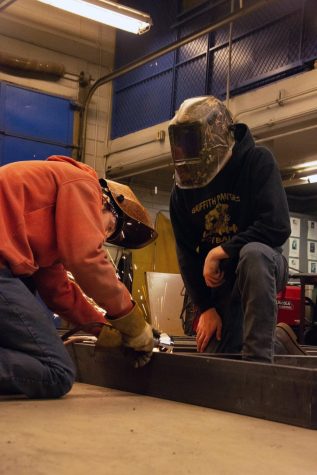 On top of the many specific trips and programs within each career class, SkillsUSA is a nationwide competition opportunity available to all ACC students to individually compete with their career knowledge and skills. The most recent competition was held from April 14-15 at the Indianapolis State Fairgrounds. At this State competition, Adam Muntean, junior, was elected as a State Officer to go onto nationals in June to compete in the leadership competition.
"I am just very excited for nationals in Atlanta and to meet lots of new people there," Adam said. "It feels really cool, and I am proud to have this leadership role. I get to represent Indiana at the national conference, and I have the opportunity to go to Washington, D.C. to talk with legislators on why Career and Technical Education schools should get funding."
Working with Adam in the construction class, Elijah Lukas, junior, enjoys going to the ACC to learn about his field of interest, but is also grateful for the opportunity to collaborate with and meet students from other schools. He finds that the ACC has efficiently been able to stress the importance of teamwork and cooperation, especially within the construction field.
"Everyday I work with students from, not only Munster, but also Morton, Hammond Central, Whiting and Calumet City," Elijah said. "One of the many things we did together was build small mock houses to learn the importance of the different roles each person plays when working on a construction project. Teamwork is important. Especially if I choose to join the construction union, a provided opportunity for ACC construction students, after graduation."
With the lessons and many opportunities provided to her at the ACC, Mia Cartagena, junior, feels more prepared for her future. Not only has she learned several lessons about her field of interest, health science, but she has also noticed a positive shift in her own desire to learn.
"I am learning about something that I could do in my future and that I am interested in, so it makes me work harder when I am there," Mia said. "The ACC has overall made me more focused, more hard working and has been a really good change for me."