Good food, good mood: Crier staffers review different comfort food recipes for students to try over spring break
Bacon Wrapped Dates (Chef Kerger, Culinary teacher)
A stuffed date wrapped in bacon appetizer is a comfort food for Chef Angelique Kerger, culinary teacher. The reason for this appetizer being such a comfort food is because, in simple words,  it's bacon and it tastes delicious.
 "It is like candied bacon," Ms. Kerger said. 
This appetizer is somewhat time consuming to make, particularly when working with the dates. However, if you get the dates pitted, the process will be easier. This is because you will just get right to the step of getting the cheese stuffed in. Chef and the staffers of Crier recommend that students try out this recipe. 
"First of all, it's very easy to make. And second of all, it is an ingredient that most people might not use, which is a date," Ms. Kerger said. 
The combination of the bacon, cheese, and date was an unusual but delectable fusion of sweet and savory. 
PRESENTATION: 2.5/5
DIFFICULTY: ⅗  
TASTE: 3/5
OVERALL: ⅗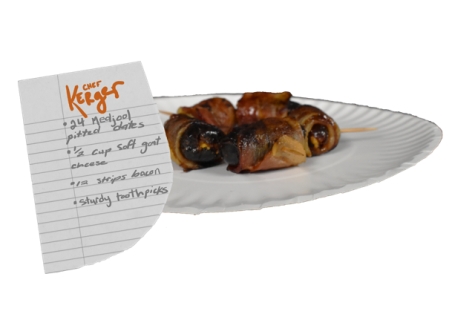 All'Amatriciana (Branko Rebac, sophomore)
Branko Rebac, sophomore, whips up a plate of All'Amatriciana for the main course. Branko first discovered his passion for cooking through YouTuber Binging with Babish. Andrew Rea, the face behind the Babish channel, features three different variants of this recipe tailored to your taste on his YouTube video.
 "It doesn't take a whole lot of effort for this dish," Branko said. "It makes for something that's not just easy to cook, but it's even great to take leftovers to school for lunch."
This dish uses key ingredients you could easily find in your pantry, and it's ready to serve and eat in less than half an hour. This recipe took a simple Italian pasta dish to a new level by adding a smoky kick of bacon and a creamier texture with the cheese. 
PRESENTATION: 3/5
DIFFICULTY: 1/5
TASTE: 4/5
OVERALL: 4/5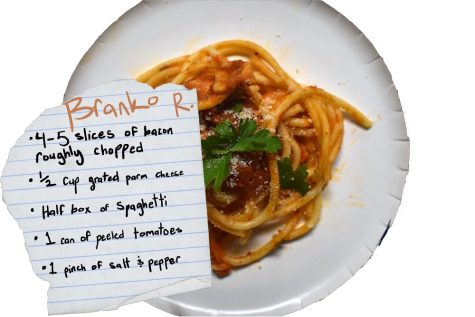 DESSERT: Cheesecake Cupcake (Isabel Gonzalez, junior) 
For dessert, individual cheesecakes are what Isa Gonzalez, junior, enjoys for her comfort food. Growing up, baking has been an outlet for her to express her creativity. "For me, this recipe has always been a form of self care, and it gives me the chance to be alone with my thoughts. There's a lot of room for creativity," Isa said. "It has always been a staple recipe for all sorts of occasions and holidays."
  These adorable little cheesecakes are perfect to bake with friends, with a versatile variety of topping options from your favorite fruit jams to the richest of caramels. We recommend trying the caramel topping, which adds an incredibly rich measure to this sweet dessert. 
PRESENTATION: 5/5
DIFFICULTY: 3/5
TASTE: 5/5
OVERALL: 5/5