Beyond the stage: A look into what the performing arts are doing for Music in Our Schools, Showcase March 20.
A place to be heard
In spirit of Music in Our Schools Month (MIOSM), MTC hopes to bring awareness to musical education. In this showcase, students have a chance to view a range of performing arts, from the MTC's top scoring stars to ACDA, nationally acclaimed singers. The free-admission showcase will be held Monday at 7 p.m. in the auditorium followed by a dessert reception.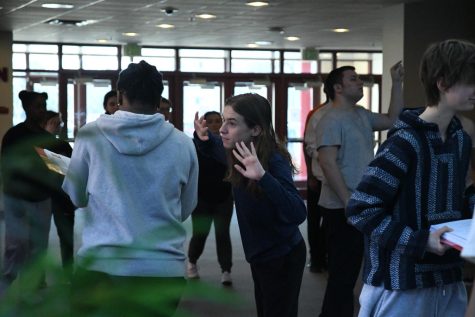 Theatre
Senior and MTC President Isidora Pavlic and the theater leadership team have been behind organizing the performing arts showcase, in hopes to exemplify the value of the performing arts into one harmonious display.
"I wanted something that was a love letter to the arts," Isidora said. "We want to represent the performing arts groups, and what performing arts education means."
MTC will be spotlighting some of their top-scoring performers from the International Thespian Excellence Awards program. Junior and MTC Second Vice President Clover Sarkady will be performing two monologues.
"Being on stage allows me to distresses from everything going on everywhere else," Clover said. "I get to show people who I am without being scared like I usually would be."
MTC will also be featuring two members' technical portfolios in the theater lobby. Sophmore and house manager Pemi Ogunjimi will be presenting her superior in theater marketing achievement while freshman Rhiannon Shelton will be presenting her costume designs for Wit. Rhiannon had the opportunity to display these costumes at a panel of judges for a state costume design competition, and achieved an Excellence award 0.67 points away from a perfect score.
"We all raise each other's spirits and I'm very grateful to have theater in my life," Rhiannon said. "It has given me so much opportunity already as well as an outlet to prepare for my future."
Choir
The choir will feature juniors Shana Shah and Diego Casas and senior Elliot McKeever.
Recently, students were invited to perform with an honors choir at the National Choral Directors Association conference. Being selected out of thousands of applicants, this accomplishment is a breakthrough in STM's vocal department.
"Singing for me is a way to connect to the community around me." Anagha Kodukula, senior, said. "It helps me form meaningful relationships."
To celebrate the 50th anniversary of MIOSM, the choir has been updating their social media pages. Exciting new events include a new commissioned song, written specifically for MHS by Zach Flasch called "Spaces in our Togetherness." The choir will be showcasing their new original song to both the school and Europe during their summer tour.
Band 
Seniors Kit Eisha and Dominic Chudziak, and potentially others, will be representing Band in the showcase, performing her ISSMA solo on clarinet. Starting her musical journey in the fourth grade with the clarinet, Kit expresses her passion for orchestra.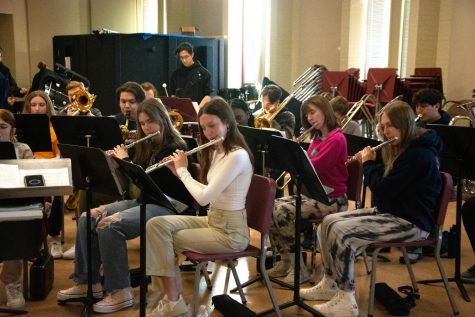 "It's always been the only thing I've ever really been good at," she said. "For me, it's been an outlet and reminder that I can be more than what I really am and do something I'm proud of."
Orchestra
While Orchestra has not been actively participating in MIOSM, sophomores Amy Mao and Giovanna Ferrante are excited to represent the class. Amy will be performing the piano at the showcase. She relays her favorite memories of her experience in Orchestra being in the viola section.
"We're the most talkative section and most of the time we just joke around," Amy said.
Orchestra's most recent concert was two days ago, March 15, serving as preparation for becoming State Qualifiers April 29.