Shutting down: With school technology causing issues, Chief Technology Officer answers pertinent questions
March 16, 2023
Crier reached out to the technology department to understand some of the issues that students across the school have been experiencing. We specifically asked about emails being unavailable, batteries not lasting the entire day, not being able to bring in personal laptops and how there could potentially be clearer communication between the technology department and students so we could be forewarned when issues occur.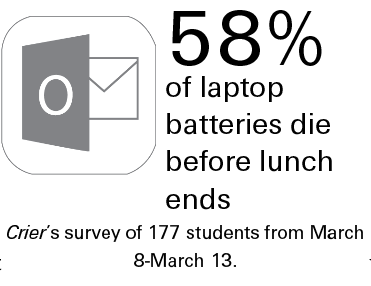 General Issues:
A few issues that Gernie Galvan, senior, has come across are the touch screen mysteriously generating many touch inputs when no one has touched it, the starting screen taking an extremely long time to load and the laptop crashing when running larger programs for projects like an AP Composition presentation. He finds that the Media Center will often re-image the laptop, which is not a blanket solution for a lot of problems.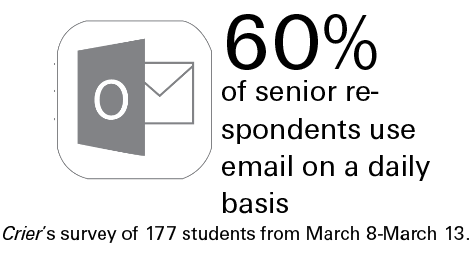 On the other hand, Mr. Ryan Popa, CyberPatriot sponsor, has had a more positive experience with the technology. When CyberPatriot needed access to VMware, Mr. Popa was able to easily get in touch with Mr. Kurt Popavich, Sr District Systems Administrator, and got a code so only CyberPatriot students could access the site. 
Battery Problem:
Many students go through the school day tied to an outlet because of how fast their batteries drain. Despite having an estimate of eight hours remaining, a laptop may only have a few hours before it shuts down. 
Solution—
"These devices are now 3 years old and a typical lifespan of a battery is 2 years or less," Mr. Jarek Pozdzal, Chief Technology Officer, said. "Any student who has a device with an unhealthy batteryshould contact the media center to report the issue. Then,  the technology team will replace the battery."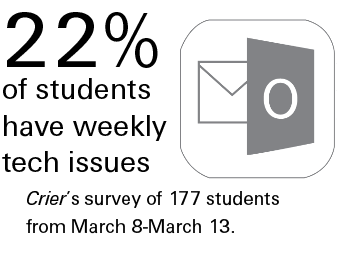 Email Problem: 
Days before a large scholarship deadline, senior emails were completely inaccessible—and this was not the first time emails had gone down without warning. A similar incident had occurred at the beginning of the school year, and seniors could not access emails for weeks. 
Solution—
"Those issues last year were caused by old hardware that wasn't holding up anymore. The most recent outage was caused by a critical security patch that failed while being applied, which crippled the system," Mr. Pozdzal said. "While we strive to have everything up and running 24/7, there are instances where we may run into issues creating an outage."
Personal Laptops:
At the beginning of the year, it was repeated over the announcements that students were not allowed to bring personal laptops to school. Since they are the only devices that can access personal emails, juniors and seniors struggle to work on college prep. 
"The reason personal computers are not allowed is related to security," Mr. Pozdzal said. "We have no insight into what is brought in and connected on our network. While we have measures in place to protect our systems and network, a vulnerable endpoint such as a student owned device can do a lot of damage. The overall goal is to ensure that students and teachers have a platform that is standardized so that we can deliver instruction with the use of technology with minimal interruptions. This ensures that all students have a working device at all times."