'Inclusive, not encouraged': In honor of Women's History Month, women athletes share their stories
When she first joined the Munster Hockey Club as a freshman, Evi Alldering, senior, was only seen as a small girl. Quickly, she set the record straight—she was there to play.
"In the beginning, it was hard," Alldering said "The boys just thought, 'Oh it's a little girl. She can't stop our shots."
Over the past four seasons at the Kube ice rink in Hammond, she has played varsity and made the Mustang All-Star team.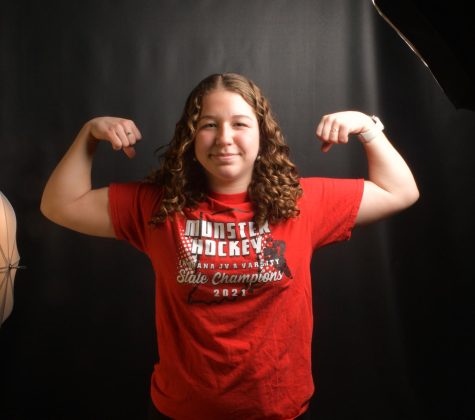 The month of March is dedicated to celebrating the history and accomplishments of women. While laws have been passed to make it possible for women to compete in sports, some athletes find that there are still roadblocks women face today.
Goal Five, a sportswear brand, who pushes for equal pay, reported 40% of the make-up of athletes are female, only 4% of sport's media coverage is women. This statistic coincides with high school sports.
Lia Sotiropoulos, a sophomore who plays basketball, expressed her disappointment in the large difference in attention the girls' basketball team receives compared to the boys.
"It kind of sucks we don't get the same support as the boys," Sotiropoulos said, "Especially since our games are just as entertaining."
Arroya Mongerie, a freshman, reflected on the low attendance at girls' games, though for a different reason. She said she did notice the empty student sections but it wasn't a negative component. It helps boost her confidence during game play.
"When there's a larger student section, I feel more pressure and end up playing worse," Mongerie said.
During the off-season, when the girls' basketball team isn't competing on the court, the girls condition in the fieldhouse. Working alongside the football team, they are disregarded and are often forced to abandon their training.
"One problem we have is that we will get kicked out for the football team," Mongerie said. "It's upsetting since the fieldhouse is our place to train and compete."
Along with morale, female athletes lack access to properly fitted uniforms. Freshman Ava Walker shared her struggle with having to wear male-cut singlets while she wrestles. Although Indiana wrestling rules have changed to allow girls to only sports bras underneath, they are confronted by referees for being "too exposed" due to the fact they aren't correctly fitted.       
"Other teams get their girls new singlets," Walker said, "While we have to wear ones without logos that aren't fitted for our body types."
Savannah Nuetzel, a sophomore, joined the football team at the beginning of this year. Although she was a bit skeptical about joining the team at first, attending a few practices helped her feel welcomed and excited to join. After a season of playing alongside boys, she says she made a lot of great relationships with the team.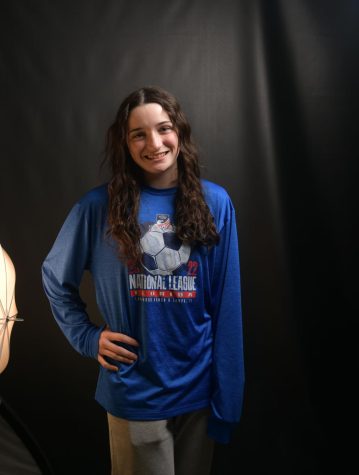 "I did not join the team just to just say I am a girl on the team," Nuetzel said. "I joined the team because I liked doing what I was doing. I just wanted to try out a new sport and see how far I could kick the ball. Once I joined, the team was nice and treated me like any other teammate."
Leave a Comment
About the Contributors
Josephine Zangrilli, Photographer
Hi! I am Josephine and I'm a photographer. Sometimes I write. I am also on the girls golf team! I also like to read and watch Netflix.
Lexi Villalobos, Photographer
Hi! I'm Lexi and a Junior at MHS. This is my second year being on the Crier staff. My favorite movie is 10 Things I Hate About You and I love the fall,...