Making their voices heard: student run podcasts
A look into the origin and production of various student run podcasts
Chatting with one another after school about the highs and lows of their days along with some humor sprinkled in, seniors Juliette Miranda and Rose Spencer wanted others to be a part of their conversations about the true high school experience. Found on Spotify, Apple Music and Anchor, they created their podcast "Tabletalk" to highlight this.
"After a club meeting after school, one of us jokingly floated around the idea that we deserved our own reality TV show," Juliette said. "We decided a reality TV show might be a bit much, but what about a podcast? We went running with this crazy podcast idea that just might work, and it did. I'm hoping we can be that guide for other people via sharing experiences."
Also aiming to be a guide for others, Kameryn Hubbard, junior, spent her time constantly looking for ways to reach out to her friends during quarantine. Feeling isolated, she wanted to express her feelings so that other teenagers could relate. She created her Spotify podcast "Teenage Audience" to discuss these struggles. Kameryn believes that teenage years are a very significant time in our growth, and it is important to address that being stressed during this time is normal. 
"The audience was my best friend and someone I could just talk to," Kameryn said. "Learning how to deal with your emotions is important, and in a way I feel like my podcast actually helps me with that more than it helps others. I hope others will just feel like they're not the only ones who experience these emotions."
Before graduating early in December, Oby Adindu started her Spotify podcast "Oby's World" as an outlet for women, specifically women of color, to speak out on issues that affect them as a collective. Each episode is dedicated to a specific topic, such as whitewashing, dieting, self confidence and cancel culture. When choosing what to talk about, Oby thinks about what brings women together. She believes that using too many labels may separate women, when said topics affect all women, no matter of race or ethnicity.
"When women are talked about in the media, a lot of issues get simplified and watered down," Oby said. "But being a woman is a lot more complex. It is not only a physical reality, but it is an emotional, mental and economic reality. I will continue to strive for the rights of all women to live as individuals and educate us as women in order to empower us and create further liberation of women globally."
At a meeting last school year, Film Club decided to create a podcast. They put the plan into action this year, recording their first episode in the Fab Lab and releasing it on Spotify Dec. 19. Their podcast, "MFC Podcast," covers current news, pop culture, true crime and trending films and music that any member is passionate about. 
"I feel that student voices are often silenced and not always considered," Kourtney Veals, senior, said. "Yet with our podcast we actually have the freedom to speak out, and I think that's really important to do when it comes to things that you care about or with topics like social injustices."
Leave a Comment
About the Contributor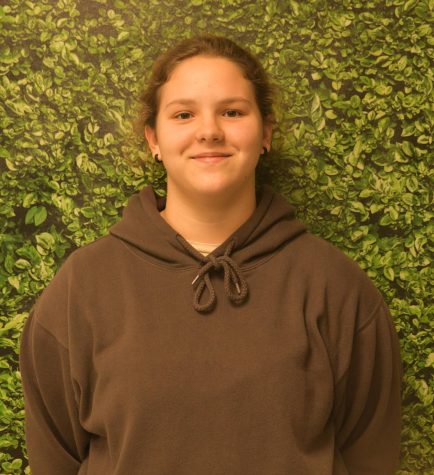 Zoe Clark, Photographer
Hi, I'm Zoe Clark. I'm a sophomore and a photographer for Crier. Some clubs I am in include swimming, environmental science, and I am hoping to join ping...