'The minute I walk in, my heart drops': Speech hosts meet, Debate enters post-season
Speech hosts meet
Munster Speech held a tournament Saturday, Dec. 10. Here is a look into the daily routine of those participating in events.
7:15 a.m. Tired students trudge into the LGI; instead of students working on homework or napping, Speech competitors do their hair, put on makeup and prepare for rounds. For Kam Hubbard, junior in prose and poetry, it is important to keep her energy up because the first round sets the trajectory for the rest of the day.
"Speech is about finding something that is important to you, and showing the world how this affects you in your daily life," Kam said. "I chose code switching, which is when minorities adjust the way they talk around to fit in."
8:37 a.m. Everyone scattered to their first round. Once settled, the doors to rooms are closed and all eyes are on the person who goes first in the round. The speaker nods their head to the judge, indicating they are ready to start the round, and melts into character.
"Some of the rounds I've competed at are ballrooms filled with people, and it can be really nerve-racking," Anna Raycroft, senior in humorous interpretation, said. "The minute you walk into a round, your heart drops."
"
The minute you walk into a round, your heart drops; but at the end of the day, when you get called to compete, it's a feeling not like anything I've ever done."
— Anna Raycroft, senior
9:38 a.m. Round one ends, and there are seven minutes until the next round starts. Some students, like Anna, are double or even triple entered: during the hour-long rounds, Anna has to perform three separate pieces—running in between rounds in uncomfortably high heels. 
"What helps me is the fact that my nerves are so high," Anna said. "I could be totally drained, then it kicks in and boosts your energy."
11:30 a.m. The third round begins. With the pressure high, Joaquin Gutierrez, junior in humorous interpretation, says not until the middle or end is he able to have fun with his piece.
"Speech allows me to be more free flowing," Joaquin said. "I could be funny and more creative—I don't have to feel so serious." 
1:32 p.m. With the top six picked from each event, finals ensue. With a more physical role, Jordan Fefferman, sophomore in dramatic interpretation, stands out with her odd physicality as a 97 year-old Holocaust survivor.
"I chose this topic just because it's something I'm really passionate about," Jordan said. "I've always liked reading about Jewish history so I knew if I did a piece on that, passion would show through. I almost cried at Glenbrooks because I was like, 'Oh my god, I get to show this piece to so many people.'"
Debate enters post-season
After winning first in sweepstakes at Chesterton, Debate will compete at Fishers Jan. 7, which replicates circuits and rounds at State competitions. Entering the season as public forum's novices and now on track to compete at State, freshmen Valeria Ceja and Krisha Chauhan, placed fourth.
"My favorite part is the final focus," Valeria said. "It's only two minutes and it gets really aggressive."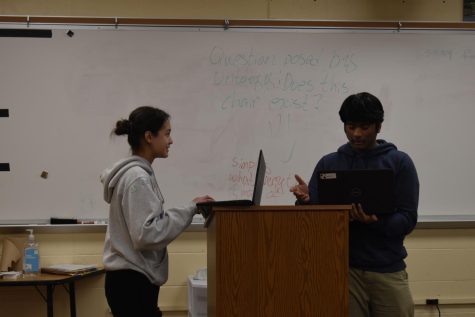 To prepare for a round, different events will meet and discuss topics and who they are competing against. According to Shreya Patel, senior in policy, seniors ehelp create blocks to prepare for potential arguments. Afterwards, one student will read their impromptu rebuttal, and everyone else will give a negative speech to prepare for possible arguments. What makes waking up at 5 a.m. worth it for Paul Harkenrider, sophomore in Lincoln-Douglass, are the bus rides to and from competitions.
"I like the rush during the round, time seems to fly by," Paul said. "It's stressful, but it pushes me to do better."
Leave a Comment
About the Contributors
Josephine Mittelberger, Guest Editor
Hi! I am Josephine Mittelberger and I am a guest editor. I am currently a senior in theater and philosophy club as well. A fun fact about me is that I...
Marianna Young, Photographer
I'm Marianna. I am a sophomore and a photographer for Crier. I am also in Spanish Club, and a fun fact about me is that I used to play hockey!