The ball is in our court: Girls' Basketball prepares for Conference
In the middle of their season, Girls' Basketball prepares for Conference
Walking anxiously onto the court, Gracyn Gilliard, freshman, waits for her first high school Varsity basketball game to start. Immediately scoring off of steals in the first quarter, she sparked an ambitious energy that raised the team's morale throughout the rest of the Nov. 2 game. The girls ended the game against Knox with a score of 76-60.
"I was really nervous, but I think having that adrenaline rush helped me the most in the beginning," Gilliard said. "I had a lot of energy and I was just eager to impact the game. Once I got that steal, I was able to calm myself and the team's energy just took off."
Undefeated, Girls' Basketball's record is 4-0 as of Nov. 18. They have been preparing for Conference by working on defensive strategies, rebounding and taking high percentage shots. Practicing everyday after school, they also have been focusing on their mindset while playing, like being disciplined on both ends of the floor and making sure players understand their roles. Their first Conference game is tonight at Andrean at 7 p.m.
"Our minds give out faster than our bodies ever will, so everyday we work to push our bodies past our limits to expand what we can do," Trinity Hogge, senior, said. "If we don't have a strong mentality, then we will be defeated easily."
As the new Varsity coach, Coach Deandre Williams looks forward to his 16th year coaching basketball. Previously coaching at Hammond High, Bishop Noll and Morton Senior High School, he was also awarded a basketball scholarship to Lewis University in high school. Hoping to focus on fine-tuning skills, incorporating life lessons and integrating new coaching philosophies, Coach Williams gives credit to the seniors on the team for stepping up as leaders and making the transition smooth.
"I'm excited for the opportunity to coach each player in reaching their maximum potential in hopes of transforming those skills from the basketball floor today, to become leaders in our communities tomorrow," Coach Williams said.
Leave a Comment
About the Contributors
Lauren Hoogeveen, Editor-In-Chief
Hello! I am Lauren and I am editor-in-chief this year. Along with this being my third year on Crier staff, I am involved in Student Government, National...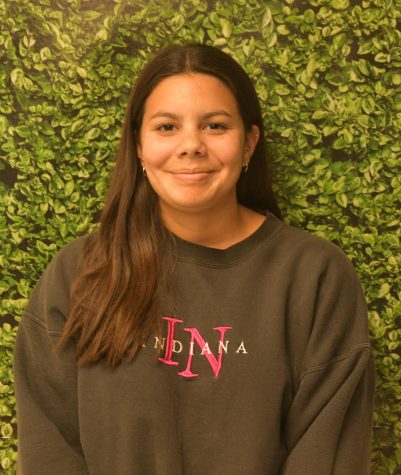 Anna Evilsizor, Photography Trainer
Hi, my name is Anna Evilsizor. I am a senior and this will be my 3rd year on Crier staff. On staff, I am the photographer trainer. Apart from Crier, I...