Can't get a word in: students and staff discuss advocacy and modern politics
With midterm elections approaching, students and staff reflect on how advocacy and politics play a role in their lives
The sun's rays shone through the trees of Crown Point near the courthouse just as they do every June, but this time, the sidewalks were flooded with people demonstrating their opposition to Senate Bill 1—the first bill since the overturning of Roe v. Wade that would ban abortion. One of the faces in the crowd was Tara Gaither, junior, who held a sign reading "pro life is a lie, you don't care if women die." 
"Seeing everyone fighting for their rights and the idea of putting my opinion out there with a ton of people that agree with me was really empowering," Tara said. "Even when people came by to flip us off, we just yelled right back at them. It was really nice to have that sense of community."
With midterms approaching, potential for change opens all around—new representatives alongside possible new policies. However, most students cannot vote yet, despite many laws directly affecting those under 18. Just like every vote, every voice matters. Students do not have to sit in silence when they see bills they disagree with pass—signing petitions, going to rallies and creating accessible information for others is something that is viable for students. 
"There's this idea that we're just kids that don't have to care because we can't vote. But there's a lot of stuff that we can do that isn't just voting," Paul Harkenrider, sophomore, said. "Big businesses can really be influenced by student movements. We can make a big change if we group together, and we're the ones who can change history."
The large majority of high school students are quite hesitant to advocate politically.  According to PRNewswire, only 32% of teens educate friends or family about a cause, and only 8% have ever boycotted a company in response to an injustice. Whether it is just a general ignorance of the problems students face today or a fear of retaliation, only a small percentage of teens talk about any political issues, online or in-person. Mr. Michael Gordon, government teacher, has noticed his students move away from an interest in broad political parties, towards specific interest groups and political opinions.
"A trend away from broad belonging into small factions. And that's not necessarily good or bad, it just is. We tend to target specifics rather than the bigger picture," Mr. Gordon said.
That is not to say however that there is no interest in larger political issues and concerns. Students still do make their beliefs known, often through social media. According to a 2022 study by the Pew Research Center, the most popular medium is YouTube, with a 95% usage rate among teens 13-17, followed by TikTok, Instagram and Snapchat. Senior Madison Sheeman did a lot of advocating last year on her Instagram story, but this year she is taking a lesser approach.
"This year, I'm just kind of trying to stay away from posting so much, just because a lot of people didn't agree with me," Madison said.
Though students may feel like they need to shy away from controversial topics, they are always affecting people's lives. This is evident in Indiana's current Attorney General Todd Rokita, class of '88 and part of the MHS Alumni Hall of Fame, who has come under fire for recent statements in regards to his pro-life views. Crier reached out to the Office of the Attorney General for an interview about student advocacy, but was unable to set a date. 
In classes such as government, students learn about the constitution and current political structures, yet learning to stay informed is left to be done alone. According to the U.S. Census Current Population Survey, the lowest age group of voters are 18-24 year olds. Prejudice may be a barrier to voting, but in a more unexpected form. A survey done by Tisch College showed that 64% of white responders reported having been encouraged to vote in high school, versus 50% of their Black counterparts. This is significant because those who did not receive encouragement were more than twice as likely to agree with the statement "voting is a waste of time." Urging students to participate in government is just as important as educating them on the history of the voting process. 
What students choose to do in their high school careers can greatly affect their futures. Even those who are not up against prejudice, seem to be hesitant to make their beliefs heard.
"I think a lot of people do not advocate until it hits them. And even then, a lot of people don't realize it's hit them and so they remain silent," Pemi Ogunjimi, sophomore, said.
Mrs. Katie Harris, math teacher, recalls not being into politics or advocacy in high school—only when she minored in history did she realize the importance of government in stopping issues she saw repeat themselves.
Wishing she was more active when she was younger, Mrs. Harris teaches her own children the importance of using their voice. When schools were losing funding for the Department of Education, Mrs. Harris took her two daughters at the time to a rally in Indianapolis and taught them to speak up and stand up.
"I think that our young people have room to grow, to speak up for themselves and to say, 'this is what I need, this is where I'm struggling,'" Mrs. Harris said. "I think we can definitely grow with that. And that comes from talking to each other, trying to be good listeners and trying to put ourselves into others' shoes."
Leave a Comment
About the Contributors
Josephine Mittelberger, Guest Editor
Hi! I am Josephine Mittelberger and I am a guest editor. I am currently a senior in theater and philosophy club as well. A fun fact about me is that I...
Seamus Keegan, Writer
Hi, I'm Seamus Keegan and I'm a junior. This is my first year in Crier! I also do tech for Munster Theatre Company, and a fun fact about me is that I also...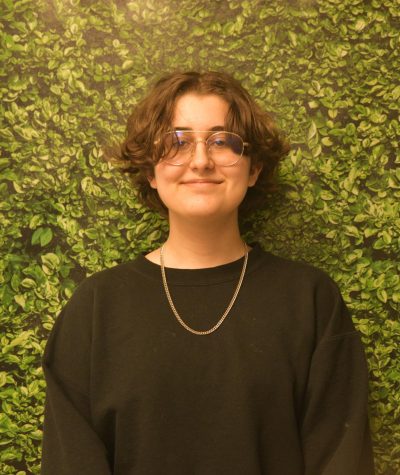 Damien Salahieh, Cartoonist
Hi! I'm Damien. I'm a sophomore and the cartoonist for Crier. I love doodling and hanging out with my cat, Koko!