Par for the course
Girls' golf ends season at 7th place for regionals, remain in high spirits
Varsity Girls' golf started their games off strongly, winning game after game, and remained strong opponents throughout the season. In addition to the accomplishment of nine consecutive victories, each of the team's five players have also managed to earn their first team-all conference.
"This was the best season we have had in years," Rebecca Jones, senior, said. "It was the first time in a long time that we went undefeated for our regular season and we had a really good team environment."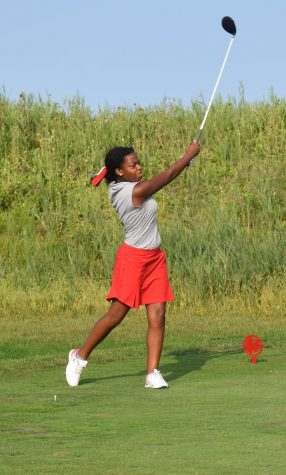 Many had feared that the COVID-19 pandemic would affect both the team's ability to practice and compete. In some ways this has come to fruition, with the number of competitions along with time to prepare being reduced.
Despite this fear, Girls' Golf was able to maintain a stable season, as seen by the multiple wins they garnered this year.
Additionally, many team members are still expressing concerns about the effects of the heat, constant mask wearing and increased difficulty to stay hydrated.
"Our greatest challenges this year were figuring out new ways to have a successful golf season during a global pandemic," Hannah Bard, senior, said.
Even facing the novel and often extreme challenges that this situation has presented, the Girls' Golf team worked to overcome. Recently, the team was able to place third in sectionals, leaving them in high spirits and preparation for the upcoming regionals competition. 
"We are very hopeful and optimistic going into this year's regionals, but overall our goal is to go, have fun, play our game and hope for the best," Emma Gossman, senior, said.