From Shin Guards to Shoulder Pads: Savannah Nuetzel becomes football kicker
Football's newest kicker, Savannah Nuetzel, sophomore, becomes first girl to score a Varsity point at MHS
Turning to face her coaches and teammates on the sidelines, Savannah Nuetzel, sophomore, beams with excitement after scoring her first Varsity point as football kicker—the first girl to score one in MHS history. Although soccer, basketball and track have always been her sports of choice, Nuetzel took up the offer to join the team after a conversation with her track coach Mr. Dillon Pierie, also assistant football coach. 
"Everyone was super excited and pumped," Nuetzel said. "I felt extremely grateful that the team and everyone was so supportive. I was super excited in general to not only be the girl to score, but just to score in general. I felt like everyone was just super happy for me."
Starting her soccer career at age three, Nuetzel believes the skills she has learned over the years has helped her adapt so quickly to football. Since her younger brothers play football, Nuetzel has also made connections with her teammates, such as AJ Prieboy, senior, while helping the younger teams. Despite being the only girl on the team, her initial worries were mostly her performance during games and balancing both football and club soccer practices. As a self-proclaimed perfectionist, Nuetzel hopes to become more consistent with scoring points.   
"The coaches have been so helpful," Nuetzel said. "Whenever I need to take a practice off and go to soccer practice or if I need to leave early or come later, they're very understanding and accommodating."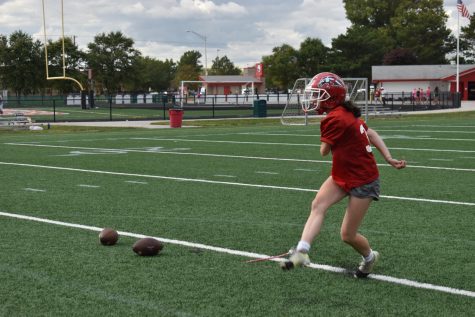 A MHS football alumni, Coach Pierie reflects on playing with the last girl on the football team, Amber Kimbrough, class of 2014. Remembering her determination to do her best and care for her teammates, he appreciates these traits being carried on by Nuetzel. 
"Savannah has already accomplished so much just by deciding to join our team," Coach Pierie said. "Seeing everyone on our sideline celebrate her after she made the kick [first Varsity point scored by a girl] was one of my favorite memories that I've had as a coach. I hope that other MHS students can look to Savannah as an inspiration to be fearless and try new things."
Leave a Comment
About the Contributors
Lauren Hoogeveen, Editor-In-Chief
Hello! I am Lauren and I am editor-in-chief this year. Along with this being my third year on Crier staff, I am involved in Student Government, National...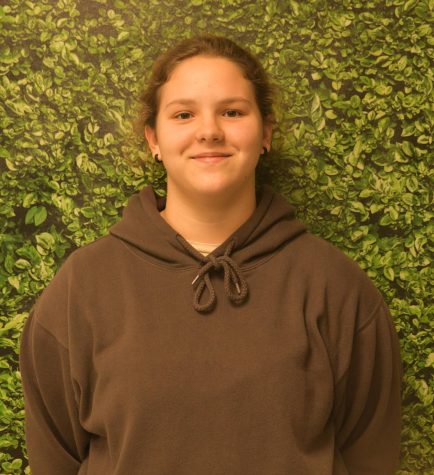 zoe clark, Co-Head Photographer
Hi, my name is Zoe Clark! Im a junior and am one of the head photographers on staff as well as the business manager. I also am on our school's swim team....