United yet divided
Students and staff reflect on the adjustments made for the current school year
When school started for Zach Lenaburg, junior, learning as he knew it had been dismantled, rearranged and reshaped to fit the confines of a 13 inch Dell laptop. For students like Kenna Teske, junior, learning took a step closer toward normality, yet was far from what it used to be. For Mr. Benjamin Boruff, English teacher, an entirely new terrain waited before him, one that, in like manner, required an entirely new approach. 
For all three parties, one truth has become clear—school no longer meant school, but a new dimension of adversity faced in the midst of a pandemic. 
Zach Lenaburg, eLearning
A typical day for Zach entails waking up, logging on to Blackboard for school for about seven hours, heading off to football practice, returning home to complete any homework and hauling off to bed to repeat the next morning. Throughout his schedule, however, he has discovered deviations from a traditional in-school schedule, largely made possible by eLearning.
"During my extended MRT, if I'm just exhausted that day, I just nap," Zach said. "I'm not productive if I don't have sleep in me."
Like most, the choice to return to school as an eLearner stems from multiple reasons for Zach. His most prominent reason is a concern for safety, but not solely for himself. 
"My sister went in-school at first, but I was just always nervous," Zach said. "I just didn't want to catch [something] and then be the reason it spread to my mom or dad. I 100 percent think I made the right choice. I do better here. My sister, actually, just switched to eLearning."
Despite his confidence in his decision, a troubling challenge he has faced as an eLearner is managing classes from home, especially more rigorous classes. 
"I know multiple people who are having trouble dropping down to regular classes because they originally thought they could do the AP, but can't handle it now with eLearning," Zach said. "The school is not being very lenient on people dropping classes [and] it's just hard. [With] eLearning, you don't want to go to school and expose yourself but at the same time you also want to pass classes and some AP classes are hard to pass at home." 
Kenna Teske, junior, in-school
Fueled by a desire for teacher interaction, the choice to return to school physically was straightforward for Kenna.
"I chose in-person because I figured that getting to know my teachers would be more beneficial," Kenna said. "They would actually be able to see my face, and actually help me out more than just at home. [In-person learning] is probably more efficient because you can actually go to your teachers whenever you want to get help."
Along with the benefits of in-person learning, concerns for safety are also prevalent among school-goers.
"I know people are starting to get concerned and get tested here," Kenna said. "I know LC [Lake Central] just got their first confirmed case, so that kind of scares me."*
Mr. Boruff, English department
One of the most pivotal factors involved in the formation of this new school year are the teachers. Teachers this year must balance two different landscapes of education simultaneously, while also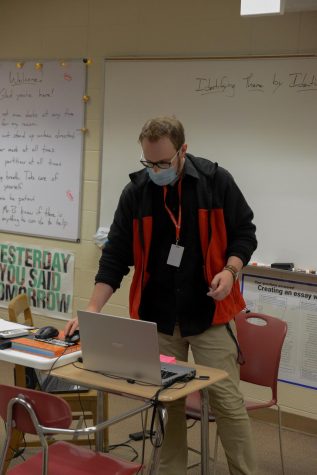 maintaining the quality of the class. 
"Teaching in general is kind of a performative thing," Mr. Boruff said. "Imagine going to see a play and half of the props are gone, because in classrooms even some of the literal furniture is gone. Half of the audience is gone, which means that applause and laughter is oftentimes awkward and uncomfortable, and instead of getting a playbill you got a Dell laptop with five different log in codes and an assortment of PDFs. The play would objectively seem worse. So, the challenge as a teacher is to try to create the same performance, the same atmosphere, with all of these shackles on. It's tricky."
Despite having to face systemic challenges, such as getting acclimated to block scheduling, or understanding the new use of technology this year, a major concern for Mr. Boruff is student involvement. 
"It's [block scheduling] a pretty simple change in theory, but I'm finding more and more that it impacts just how I plan ahead, and having to adjust the flow of how assignments are operating and due dates," Mr. Boruff said. "[For] writing assignments, I'm giving more time than I would have otherwise. The biggest frustration for me is it's difficult to build rapport [and] establish those connections with students. It's a lot trickier, it seems, than it would otherwise be, and it's not just the virtual students, but even the in-person students."
In order to motivate and build bonds with his students this year, Mr. Boruff has taken to continual virtual engagement. 
"I think one thing is to check in on students as much as possible," Mr. Boruff said. "I'm also a huge fan of positive encouragement. I try to send positive emails and positive messages as much as possible when students do things well, just to show them that I notice and that I care."
The process of almost completely transforming a class to become adaptable for both eLearners and in-school students has been difficult, according to Mr. Boruff, however, goals for this year are not completely unattainable.
"I've tried to incorporate as much collaboration virtually as I can," Mr. Boruff said. "It's not easy. I've gone home frustrated for several days, because you want every lesson to be good, and I don't like the idea of just sitting, talking to Blackboard Collaborate and then giving students time to work. I want it to be more interactive, and that's tricky to accomplish. I think there is a way to make it work somehow, or at least a little bit better. It's just a matter of trial and error."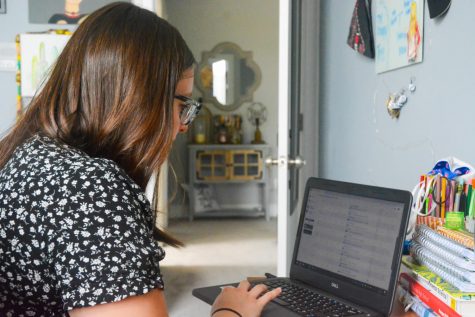 Kate Krawzyck, Junior, eLearning
Of all the terms associated with this new school year, safety has become a crucial point of discussion. Whether it be concerning precautions or an overall state of mind, safety, like school, has taken on new meaning. For Kate, safety meant considering those she cared about. 
"The main reason I chose to do eLearning was due to the fact that my mom has an auto-immune disorder which makes it crucial that I don't get COVID-19, because if I spread it to her, it could be life threatening," Kate said. "The second reason is the fact that I spend every day with my grandma, and I can't risk her getting the virus as she already has many ongoing medical conditions."
eLearning, like physical school, carries its own set of issues, such as technical difficulties or less interaction with teachers. Both means of education, however, are equalized by class content, a major stride from the conclusion of the previous school year. 
"Compared to quarantine in March, I would now say that eLearning and in-person are the same level of difficulty," Kate said. "I can see everything kids in class see when my teachers share their screen, and I receive the same assignments."
Another distinct aspect of eLearning this school year that differentiates it from before is the reinstatement of extracurricular activities and sports. Although for some this change is a necessity for the school year, for others it is an addition not worth including.
"I do believe that it was okay to have both options, but I do not think it is okay to still be hosting school functions such as sports and all that," Kate said. "Yeah, they're a lot of fun, but is it worth the risk?"
Mr. Marsh, physical education
Inventiveness and innovation were key tools when strategizing the new way in which classes must operate, physical education requiring even more ingenuity. For Mr. Marsh, physical education teacher, unique virtual measurements had to be made.
"I am currently teaching online PE, which is very challenging," Mr. Marsh said. "This requires a lot of cooperation from the students to figure out ways to stay physically active. We use different assessment techniques like videotaping [for] testing."
Despite the challenges faced, allowing two options for learning were critical when reopening the school, according to Mr. Marsh. 
"I think giving students two options was very necessary for two reasons," Mr. Marsh said. "Firstly, both students and parents could choose what method they thought as most effective and safe. Secondly, without some students staying home to eLearn, it would have been impossible to safely set up the classrooms to socially distance. I thought Mr. Wells, his staff and custodians did a great job making the building as safe as possible."
In the midst of the stress and panic COVID-19 has caused, particularly on the school system, many say braving the unknown and acting in unity is crucial, especially when faced with calamity.
"This whole situation is no one person's fault," Mr. Marsh said. "In my long lifetime I have never seen anything like this happen worldwide. The only way we will survive this is to unite as a nation and do our best to help everyone else as we wait for a vaccine. We need to care about our friends and neighbors and do our best to take care of each other. As a COVID-19 survivor this summer, I was very thankful for the help I got from total strangers at Munster Community Hospital."
Leave a Comment
About the Contributor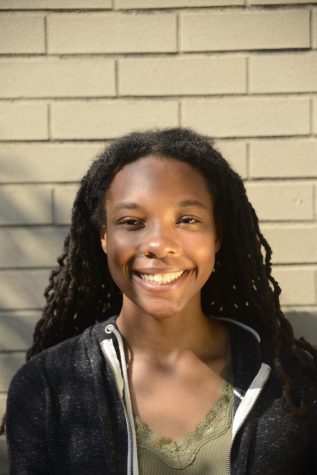 Atarah Israel, Editor-in-Chief
Hi, I'm Atarah! I am a senior and the Editor-in-Chief of Crier. I absolutely love to read and write. My favorite book has (and likely always will be)...