Fine arts in flourish: students in Orchestra, Choir and Theatre celebrate Music in Our Schools Month and Theatre in Our Schools Month
The ringing in her ears. The perfect harmony of every voice moving together in sync. The songs, following weeks and months of practice, coming together. For Alicia Powell, junior and member of the chorale, this is the best part about practicing Choir. 
Whether it's through an instrument, a play or a song, the arts take the shape of many students' lives at MHS. According to the National Association for Music Education, March has been appointed as Music in Our Schools month for over three decades, the goal being to spread music education. In addition, Theatre spends their time stressing the importance of the performing arts to celebrate Theatre in Our Schools Month. Though the degree of value for the months vary, each student holds a special place for the arts in their hearts. 
"It means a lot to me. My mom kind of introduced music to me, and I've been singing in choirs all my life," Alicia said. "It's just something I really enjoy doing. It's a big stress reliever for me (and) whenever I'm singing I feel very relaxed and it's just a very big passion of mine."
For Music in Our Schools month, Choir has mostly designated their time to updating their social media accounts, highlighting achievements of past alumni. Orchestra, on the other hand, has spent time sending positive letters to the middle school group, and this time, according to Isidora Pavlic, junior and member of Orchestra, the month has been dedicated to reflection.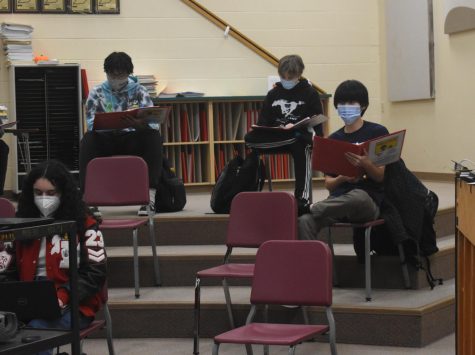 "It's nice to just kind of be like, hey, like, you're acknowledging the fact that like the arts programs aren't boring because I feel like nowadays, STEM is pushed so much, which is good, but you really have to like consider how important the arts are in school," Isidora said. "Sometimes I sit there and I'm like, 'wow, this is so crazy that for the past years  one of my classrooms a day is devoted to just sitting here,playing a violin for school.We are privileged to be able to have that experience. Allowing that time to  reflect on that is very valuable."
Some students, such as Isidora, president of Theatre, believe that the arts get much less attention and funding as opposed to other areas in the school setting. For Theatre, the Educational Theatre Association sent out rubrics for schools to follow, which includes an advocacy workshop, talking to administration about recognizing successes and promotional videos on social media. But according to both Isidora and Kyle Farnell, sophomore and member of Theatre, the most important part about this month is putting an emphasis on the value of performing arts and their accomplishments as a whole. 
"I think Theatre in Our Schools Month as celebrating this idea of performing arts and spreading more awareness of what theatre is and why it has a lot of value," Kyle said. "It's not just about acting. There is a lot of potential for anyone, not just in one area but anyone can do theatre."