"It's a healthy way to write down the things you don't know how to say out loud": Poetry Club holds slam
Winter slam hosted at Sip Coffee House on Feb. 9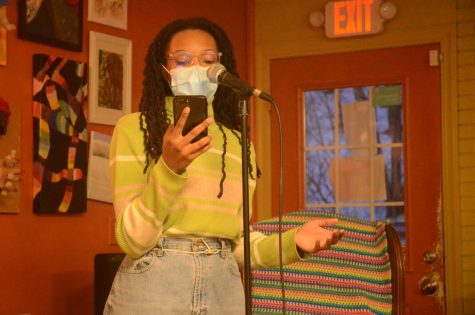 As the smell of coffee saturates the air, enthusiastic chatter fills the room and more students enter through the door, allowing a burst of frosty air to sneak in. All attention centered on the microphone as Poetry Club's anticipated slam at Sip Coffee House Feb. 9 began.
At poetry slams, members perform their own personal poems aloud in front of an audience.
"I felt really good about myself (when I was reciting my poem) because in the past, I was really bad at talking in front of crowds," Tayo Clark, senior and event coordinator, said. " I just felt proud of myself that compared to last year, I could actually do that in front of people I didn't even know that well. No one's gonna judge you if you go up a stuttering, mumbling mess."
Poetry Club establishes an open-minded and supportive environment for its members. There are no requirements for the structure, theme or length of a poem. From life after high school to an argument over "Star Wars," there are no limits to the meaning of a poem.
"I wrote (my poem) when I was in a big argument with my friends over if Rey could have Sith lightning," Evanthia Fotopoulous, sophomore, said. " It's really fun to write a poem that is about any random topic because that's the cool thing about poetry—it can be about literally anything. Most people just think of the poems that show you at school where they're really complex and wordy but they don't all have to be that way."
The club offers a form of self-expression through poetry and enables students to voice their passions and experiences. Currently, the club is participating in the creative writing contest hosted by Indiana University Northwest, which is open to all high school students.
"To me, poetry is an outlet," Taylor Perez, senior and vice president, said. "It means a lot because I look back on poems that I've written since freshman year when I joined Poetry Club, and how I was feeling and the kind of words and phrases and how I structured my poems. It's a personal checkpoint of personal growth and character development. I think it's a healthy way to write down the things you don't know how to say out loud."
Leave a Comment
About the Contributor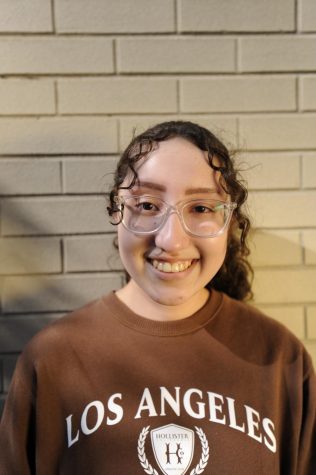 Sofia Sanchez, Page Editor
Hi! I'm Sofia and I'm a sophomore. This is my first year as a page editor on Crier. I enjoy learning about science and listening to music. A fun fact about...