Raising the bar: Winter athlete spotlight
Christopher Bohn, wrestling
Making observations of an opponent and how he wrestles, Chris Bohn, sophomore, analyzes the match to see how difficult his opponent would be. Bohn's wrestling record is currently 42- 2; he qualified for State last weekend where he did not advance following the first round.
"I feel like last year (the season) was alright but this year is way better, I feel great about this," Bohn said. 
Bohn's mentality is to keep his head up high, regardless of whether or not he wins. According to him, the feeling of winning is a rush of excitement, and losing just means that he knows he tried his best and gave it his all. With the season coming to an end, Bohn can keep that mentality close, only desiring to push further ahead. 
"I might feel bad about (losing) for a bit but I just go out there trying my best and see what happens," Bohn said.
Griffin Poulsen, swim
Taking his career for a swim, Griffin Poulsen, senior, plans on continuing in college. Recently, Poulsen has been talking to coaches at different universities about furthering his recruitment.
"It makes me proud to know that I came that far to actually be recruited by these coaches," Poulsen said.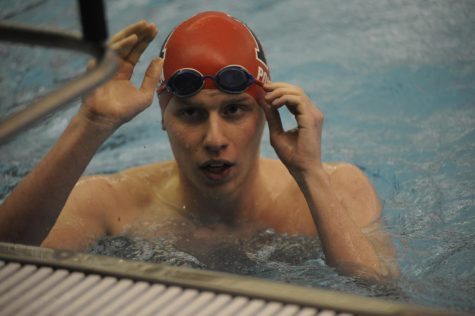 In December, Poulsen was invited to Greensboro, North Carolina to compete at the speedo Junior National Championships against some of the fastest people in the eastern half of the country. Poulsen swam and got the best time in 200 yard and mile freestyle; the mile was an exclusive club event. 
"I won't lie, being there is a little intimidating because it's a lot bigger meet than I'm used to," Poulsen said. "Once you get past the butterflies, it feels really good to be there."
Priscilla Zavala, swim
Neck and neck against an opponent, Priscilla Zavala, senior, pushes herself harder and harder, only focusing on the opponent gaining up on her.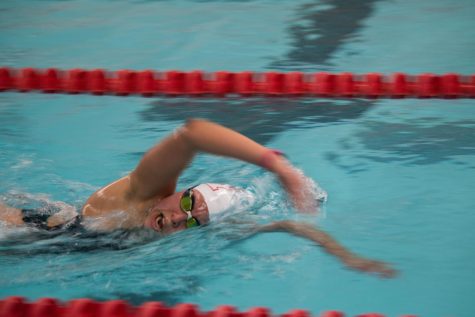 Zavala joined the team out of curiosity and a sudden interest. She is now going on seven years of swimming. There comes ups and downs during the season but, according to Zavala, she has had the best time of her life this year. Zavala's big achievement was winning sectional champ for the 100 fly her freshman year, one of her top highlights.
"Even though it may seem hard as long as you like, put in the work, you know, and expect good things will happen in the end," Zavala said.
Brandon Trilli, basketball
Following in his dad's footsteps Brandon Trilli, junior, intends to play basketball like his dad, also an MHS graduate. With the goal of 1,000 points and winning a sectional just like his dad, Trilli works on himself and what he needs to improve.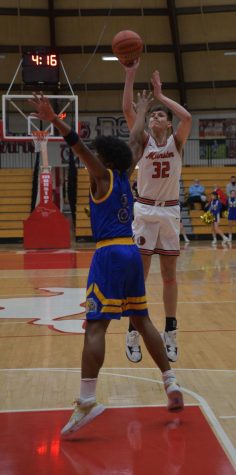 " It's kind of just weird for me to think that other people kind of look up to me or are so interested in me," Trilli said.
Trilli transferred from Arizona, where he won state with his previous basketball team. But upon his move to Munster, he noticed the wide variety of opportunities in Munster. One of the greatest benefits is the team chemistry he feels with the rest of the boys.
"I like my team because it's a good group and a good group chemistry compared to Arizona out here is a lot better," Trilli said. " I think we've grown a lot. We have a lot to prove to people because when we first came into the season, nobody thought we were gonna be that good. Over time, we proved to them that we are a team and were able to do a lot better than what people thought we were gonna do."
Charlize Lorenz, softball
Digging cleats in the gravel while walking onto the field Char Lorenz, junior, escapes reality when problems outside of softball occur by playing on the field.Char Lorenz, junior, is committed to Louisville, a D1 school for softball after being scouted. Lorenz mentions that her life hasn't changed much after committing and still gets all the support from family and friends as well as their families helped her out and has given advice throughout the process. 
"It doesn't really make me feel any different," Lorenz said. "I know that I still have work to do, there's still things that I have to accomplish because I have goals set for myself every single year."