A taste around town: food review of local restaurants
Crier staff reviews restaurants within five miles of MHS
February 22, 2022
Asian Kitchen
6412A Calumet Ave. Hammond

When entering the small restaurant, tucked away in a strip of other small businesses, the paintings of pho and a scene in Vietnam is the first thing that welcomes a customer. The dining area is very comfortable, and the wait staff was very patient when ordering and brought out the food quickly.
Additionally, the price in regards to the portion size was more than reasonable. The restaurant offers good quality for large meals that are not too expensive. Between the four drinks ordered, the price range did fluctuate between $4 to $5, but in proportion to the cost of most boba drinks nearby, this had a relatively decent price with a balanced aromatic taste. The pho, a soup with rice noodles and bone broth, had a deep flavor with a wonderful aroma. If you're looking for a comforting dish, pho may be a good fit due to its warmth and flavors. Additionally, the vegetable Singapore noodles were phenomenal—though the dish was ordered sans carrots, the blend of flavors was still rich.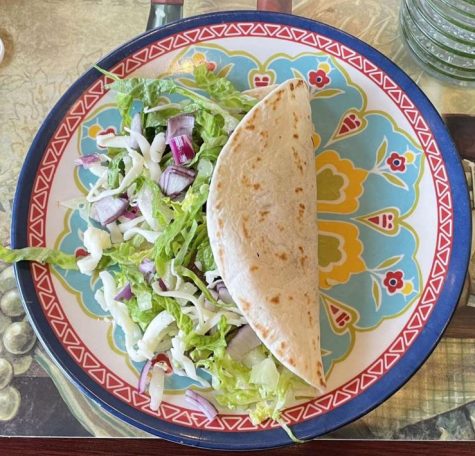 Maria's Buena Cocina
2936 B Highway Ave. Highland

Upon walking into Maria's Buena Cocina, you are overwhelmed by the homey atmosphere, the smell of Mexican food on the stove and the hospitable staff. The cozy seating area is great if you're looking for a smaller place to chat with family or friends. 
For drinks, the horchata and hibiscus water were ordered. Both were very good, but rather sweet. What was particularly loved were the glasses that the drinks  were served in—thick, handmade-looking glass with colorful designs. Most of the dinners—entrée with rice and beans—were $7 to $9, so staffers thought it was very affordable.
Within the meal, the chicken and beef were all extremely flavorful and juicy. All tried entrées had a home-cooked feel to them—comforting and warm. Particularly, the Mexican rice was delectable and perfectly fluffy.  Overall, Maria's Buena Cocina had a very charming atmosphere and tasty food that would be perfect for dinner after a day spent with friends.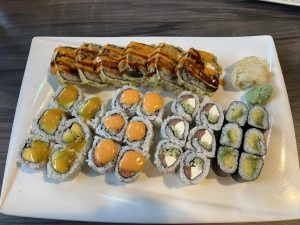 Sakura Bowl
2813 Highway Ave. Highland

In contrast to the cars in search of parking and yellow street lights of Highway Avenue, the sleek decorations and blue-toned lighting in Sakura Bowl created a calm and peaceful atmosphere.
Although all staffers enjoyed the food, some opinions differed. Some thought the miso soup had too much seaweed, while others thought it was a perfect amount. On the contrary, everyone agreed it was perfectly salty without being overwhelming. The sushi was very fresh and had a large selection, including vegetarian-friendly options. The food at Sakura Bowl was very reasonably priced, w​ith most classic sushi rolls between $4 to $6. The experience was thoroughly enjoyable—both the food and the modern, sophisticated environment.