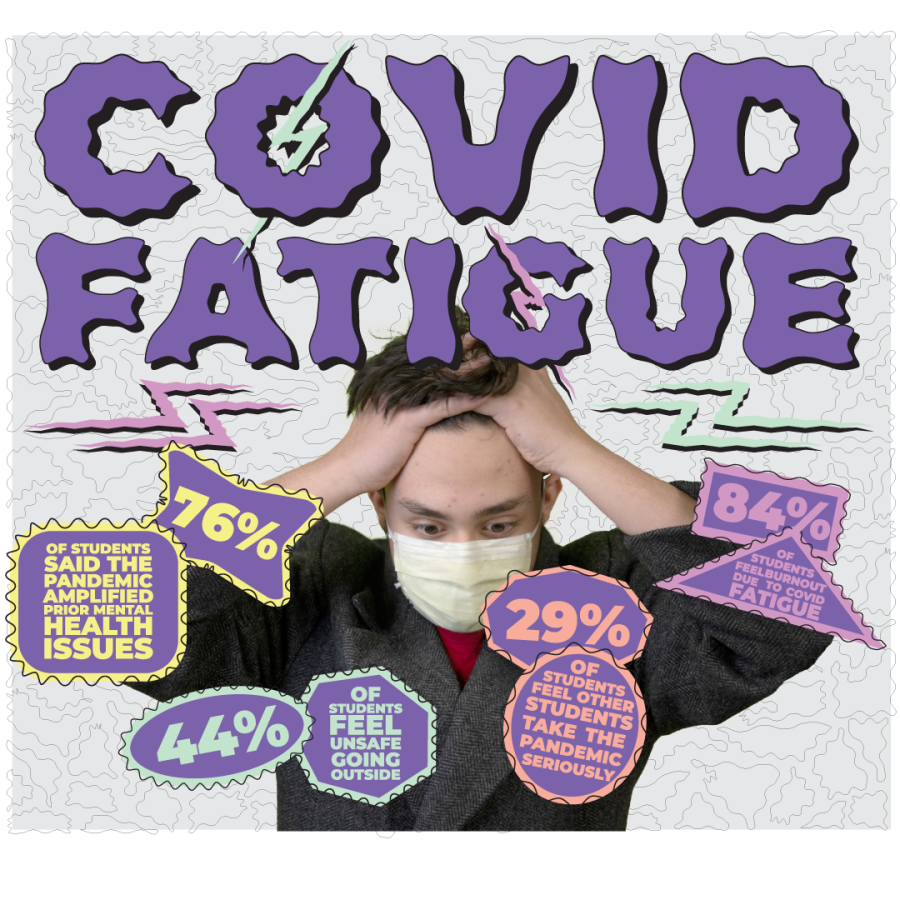 Covid fatigue: students discuss pandemic fatigue and share their personal experiences
She never expected her life to look like this. 
August 2021, things were looking up for students, including Isidora Pavlic, junior. Following over a year of isolation, places began to open up, MHS and other schools were back in-person and, though it seems unfathomable to many students now, masks were considered optional towards the beginning of the year. There seemed to be light at the end of the tunnel. But as the months continued to go by, the situation seemed to worsen—the Omicron variant appeared. As of Jan. 11, there were a reported 11,813 new cases in Lake County, more than at any other point in the pandemic. 
"(There are) always those worries constantly in the back of your head," Isidora said. "Like, 'Oh, what if I get sick?' I'm really worried about my grandparents. All these hypothetical situations, I feel like I care so much about it. And now with the Omicron surge, I haven't really been going places. I wear two masks and I do what I'm supposed to do. And I'm getting increasingly more nervous, I feel like there's some people who just don't care and don't ever care."
"
Especially with ADHD, I'm a huge procrastinator, and I've never really been able to control that. So it's been an increasing problem, especially with the pandemic going on. "
— Clara Dumaresq, sophomore
Indiana ranked the worst out of all 50 states in terms of being covid safe, in a ranking conducted by WalletHub. The rise in cases has not only impacted students' lives in terms of safety, but nearly two years of isolation has led to something else—covid fatigue. Spending what seems like forever working to no avail, students struggle as no end to the repeated isolation seems in sight. For many students, the urge to give in to the circumstances is frequent, and continuing to convert to new and different rules seems hopeless. 
"(The changes now) can be pretty overwhelming sometimes," Clara Dumaresq, sophomore, said. "More often, it's just like, 'I can't believe this is actually happening'—that I'm living through (this)…I think people are more or less just thinking 'let's get this over with,' and they just want it to be gone (and) they just don't want to wear masks and that's causing a bigger problem because it's spreading even worse now." 
Navigating teenage years is difficult enough on its own, according to students like Isidora. With the added pressure of being thrown into a world that seems stuck on retaining its old foundations, interacting with other people seems harder than ever. Teenagers and youth in general have reported struggling the most with their mental health, according to the University of North Carolina at Chapel Hill, and issues such as interacting with others socially is part of this. 
"(The biggest way covid has affected me) honestly has to do with my social levels," William Oar, freshman, said. "I'm an 'antisocial social person.' I don't really strike up a conversation with people unless they actually talk to me first. (Now), I talk less and I just don't really interact with anyone." 
Adjusting to a pandemic that has been going on for months has taken a harsh toll on teenagers—especially when it comes to navigating a world that only seems to be getting worse. In addition to the hardships faced at school, many students' struggles do not end there. Despite being nearly two years in the pandemic, and despite finally hoping for things to look up, many students have had to live with the fear of their loved ones getting covid.
"My grandma recently just got (covid)," Adam Muntean, sophomore, said. "She's in the hospital. We just found out she has pancreatic cancer, and (the concern with covid) is just like, we're trying to get her at least into someone else's care, but no one can take her because she's covid positive. And now I can't really see her or go visit her in the hospital."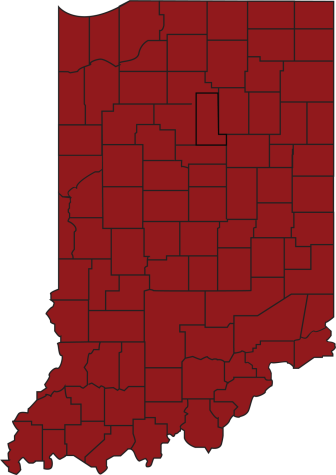 Over the span of the pandemic, challenges have ranged from dealing with the impact the virus has itself to the aftereffects of prolonged isolation.  Aside from relationships with family, relationships with friends have taken a turn. In a recent Crier survey of 45 students, 51% said the pandemic changed their relationships with their peers, and 70% of that change was reported to be negative. 
"Because I was the new kid (in seventh grade) and I was like, 'Oh, I'm gonna make friends,' but because I was (just) acquaintances (with people) and then at the time I did not have a phone, so I didn't have any social media," Luna Gutierrez, freshman, said. "So the entire pandemic I literally talked to no one." 
The progress of covid circumstances at MHS has varied greatly each month–from going to mask recommendations to mask enforcements to the re-introduction of Blackboard Collaborate. As students returned following winter break, some students were surprised at the decision to go back in-person–others believed it was the best choice considering the circumstances. But in terms of mental health and particularly covid fatigue, according to Isidora, there is always more to be done. 
"June or July (of 2021) was probably the lowest point for me. I feel like once we came back this year, (the administration) was trying so hard to go back to how it was before the pandemic that they kind of lost sight of the fact that we're still in this (with) students' mental health," Isidora said. "For example, a mental health day isn't a reason for an excused absence. I just cannot (stay home, even if)–I've been up the whole night with terrible anxiety or a panic attack or whatever." 
The feeling of being heard is not just specific to students at MHS–over the country, students have been protesting their students covid protocols through walkouts. In Chicago, students left their classrooms and marched in protest, demanding better covid measures. This reflects the frustration students have had to deal with, though schools are put in a tough situation as well, according to Delaney Craig, sophomore. 
"I think that (students) have the right to have their opinions, but I think schools are doing what they can while still educating the children," Delaney said. "Honestly what's most important is the education, the future generation because those are the people that are going to be handling problems like this. I think (those students) voices should be heard and I think whoever's at their school can go with more safety precautions. We took away the shorter hallway passing periods and the one way hallway and the shields and I think those could be added back in if absolutely necessary, but as of now, I think we're doing fine." 
Covid has seeped its way into every facet of life–it takes the form of eroding mental health, it changes families and friendships and its prolonging slowly strips at teenage resilience. There has been speculation by some that covid will eventually turn into something reminiscent of the flu–but until then, pushing through the circumstances and staying safe is all one can do, according to students. 
"When you're not like seeing people (or) going anywhere–because along with friend stuff getting canceled, shows I had been a part of for theatre or even speech tournaments were moved online–it's isolating and loneliness can lead to having some mental health problems," Delaney said. "I think that (the pandemic) has amplified (mental health issues), but you also find new ways to deal with it."