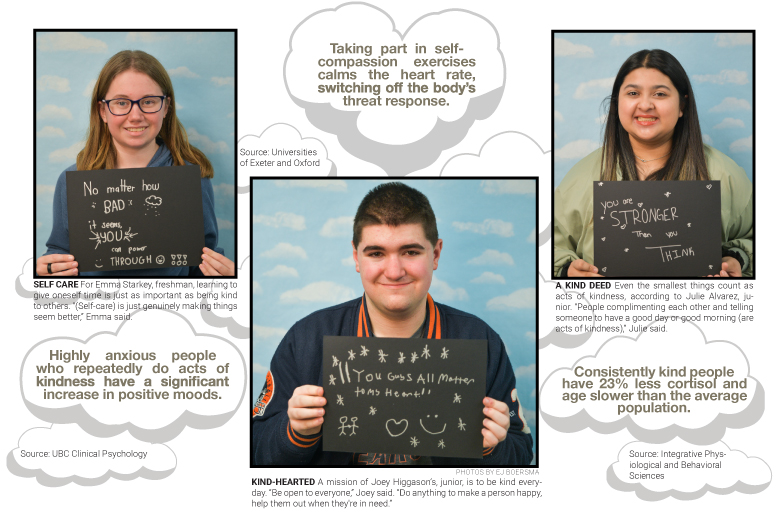 The kindness of one's heart: students highlight everyday acts of kindness during winter gloom
Students highlight everyday acts of kindness during winter gloom
January 18, 2022
Throughout the season of chilly weather and covid-induced isolation, it is important to remember the small things one can do during the season. An act that is often overlooked and taken advantage of is kindness. Crier wants to feature a few who have shared acts of kindness they received.
Joey Higgason
So happy that the weight of the world seems to rise off his shoulders, Joey Higgason, junior, feels his heart glow as he walks down the halls of MHS and waves to people he knows. Joey knows no act is more rewarding than greeting someone in the halls. 
"I believe it brightens up their day and makes them feel like they have a purpose in this world," Joey said. "(That) is important to me because I just love seeing everyone happy. Whenever I greet someone, nothing but happiness comes to their face, and their happiness powers mine."
Being a vocal advocate for spreading positivity, Joey loves seeing acts of kindness, recounting people high five, holding doors open for others and helping others when they've dropped something. Though Joey has always been optimistic, he recognizes that others find it difficult to be as happy. 
"I just want everybody to be happy," he said. "Being nice can make you happy as individuals, (so) be open to everyone. Brighten a person's day—it's like lighting something up inside their heart and making them glow. Always be nice to one another. It is a true gift to have."
Emma Starkey
Kindness does not end at altruism—Emma Starkey, freshman, learned this especially hard lesson while being stuck at home due to quarantine. With this new experience, they have learned to be nicer to themself by having more time to relax. 
"I can't go into a state of being stuck in an alternate reality of the internet, but I also can't be constantly shoved with schoolwork," Emma said. "It needs to be on and off (with) enough time to be functioning. I also need some time off to cool down and move onto the next thing."
While Emma does recognize the importance of self care, they do not let kindness go unnoticed. Recently, Emma had a short film project that was done close to the deadline. They had to record their film in a short period of time and, in turn, had a harder time working around everyone's schedule.
"Given the circumstances the actors and the team working on it were extremely supportive," Emma said. "Even if they ended up not being able to work on it, they were still genuinely nice about it and really apologetic. Which I appreciate because it just made my life so much easier—it was really sweet."
Julie Alvarez  
Being isolated for months on end and struggling to keep up with self care is a common theme among students. Not having regular social interaction damaged many students' mental health, something Julie Alvarez, junior, also experienced. Luckily, coming back to school helped balance her life and she can appreciate the hospitality in simple questions like "How was your day?"
"Kindness from others has made me a happier person," Julie said. "And others put effort and time out of their day to do something kind to make someone else feel better about themselves."
Despite being better off than she was before school came back to in-person, Julie still has her struggles with mental health. To help her when she is anxious during school, Julie tries to take care of herself by taking breaks and drawing doodles in her notes to shift her attention.
"Even being kind to myself is such an amazing thing that can definitely help mental health," she said. "It helped me be more confident."