A day in the life of two swimmers
Swimmers' daily routine and their eating habits for the morning and afternoon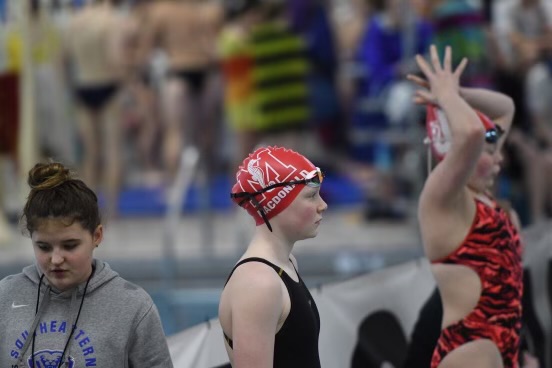 Rushing out the door
A day in the life of Lucy Macdonald, junior
4:45 a.m.
Waking up bright and early, eating quickly and rushing to the pool, Lucy MacDonald's first smell of the morning every day except for Wednesday is blue chlorine water and the sweat of the locker rooms. For MacDonald, having two to three hour practices like these are typical. 
"Sometimes it's really hard to get out of bed at 4:45 a.m. every morning, but we get through it and we know it will be worth it in the end," Lucy Macdonald said.
5:45 a.m. – 6:10 a.m.
All swimmers on deck start off with dryland, stretching their muscles before getting in the water. After dryland they head to the weight room to warm up their muscles in order to keep long strides in the water.
6:10 a.m. – 7 a.m.
The team hops in the water and practices strokes for their next meet such as the 500 Freestyle and the 200 Freestyle
7 a.m. – 3 p.m.
Hopping out of the water  and Lucy rushes to Mr. Dylan Pieres class for Statistics right after morning practices. As the season goes on, it starts to get easier to adjust according to Lucy.
"It (swim) can affect my attention in class, I tend to get really tired and distracted a lot easier on days we have morning practice," MacDonald said 
Eating food throughout the day is important to be able to have enough energy for practice after school.
"If my body doesn't have enough calories to burn it starts breaking down muscle. I also get really weak and I can't perform as well in the water or during a dryland workout," they said.
3 p.m. – 5:30 p.m.
Lucy continues their practice right after school, ending around 5:30 p.m.
Heading home to eat dinner and start homework, MacDonald finishes their homework around 10 p.m. and falls  asleep by 11 p.m.
5:30 p.m. – 11 p.m.
Taking on the day
Cedar Larzzara's, sophomore, life in the water
4:30 a.m.
Early wake up call Larzzara gets out of bed, eats breakfast and then heads to the pool for morning practice.
7 a.m. – 3 p.m.
Larzzara tries to eat at least four sandwiches throughout the day.  He eats about 4,000 – 6000 calories a day. 
3 p.m. – 5:30 p.m.
He focuses on arm and leg workout while treading the water. He works with the new coach during practices.  "The coaching changes are difficult at first but have gotten better. It is just different from what he is used to," Larzzara says.
5:30 p.m. – 9 p.m.
Following his afternoon practice, he goes home and has a main and secondary dinner. After eating his dinners he has dessert and heads to bed around 8:30 p.m. to 9 p.m.
"If I get eight hours of sleep, I'm not tired during the day," Larzzara said.
Tomorrow 
The team's next coming meet is the Hamilton SE HS invite where they will be spending the night at the high school competing the next morning.