Language clubs discuss activities and reflect on purpose
December 14, 2021
Whether it is the holidays or enjoying a treat, the language clubs allow students to indulge in language and culture associated with it. Each club focuses on using the extra time to make cultural connections that aren't available in a class period.  
Spanish Club
A language club that helps represent nearly 27% of MHS's 2020-2021 student body, Spanish club celebrates Hispanic and Latinx cultures. The club wishes to cover more local examples of Hispanic culture like the Pilsen murals in Chicago.
"It's important that this school has this club because I know Munster is a surprisingly diverse place," Miguel Gambetta, senior and co-president, said. "It's important that it's an outlet."
Through Spanish Club, students can share a language that students may not understand or know as well.
"Spanish Club has helped me appreciate the culture of Spanish speaking countries," Marissa Slivka, senior and co-president, said. "(It) has helped me to better understand others and their backgrounds, and has made me a more well-rounded and understanding individual."
ASL Club
ASL is trying to get into a regular monthly meeting schedule. There, they can host meetings with a Deaf community—an unofficial group that has established similar meetings with the sponsor in previous years. This program allows students to be more aware of their expressions. 
"It's really cool to see students go to a Deaf event for the first time," Ms. Hannah Fus, ASL Club sponsor, said. "It's almost like going in and immersing yourself in (the language)."
This opportunity allows students to take what they've learned and apply it to the real world. Students can improve with clearer communication of thoughts and emotions. 
"I tend to build more social skills when taking ASL because it's such a personal language," Jim Ferguson, junior and Leadership Board member of ASL Club, said.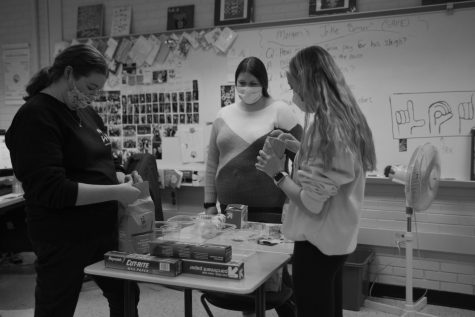 French Club
Though French Club did not exist in the 2019-2020 school year, Rebecca Franco and Carsyn Sobczak, current seniors and presidents, stepped in last year to establish the French Club they once knew. Going to Madame Jennifer Kennedy-Cole, they began to build the club. 
"I definitely became way more involved in it than I ever thought I would," Rebecca said.
Without native speakers and authentic local restaurants, the presidents find issues with content. 
"It would be awesome to possibly look for French connections in nearby communities, but…it's almost impossible," Carsyn said. "We work on finding videos of first-hand accounts and encourage studying abroad programs."