Mr. Boruff's full schedule as a sponsor of five clubs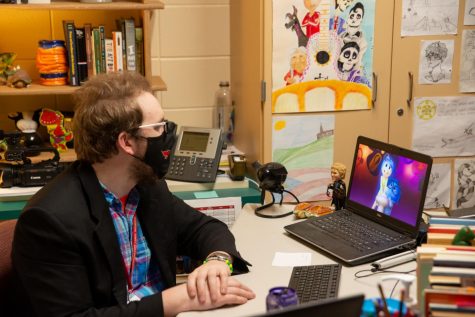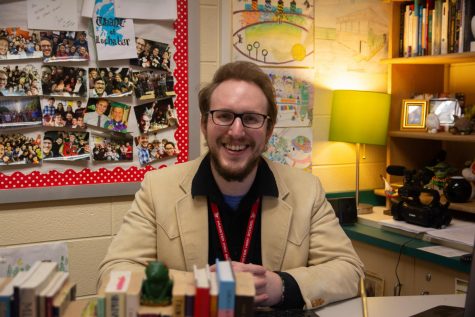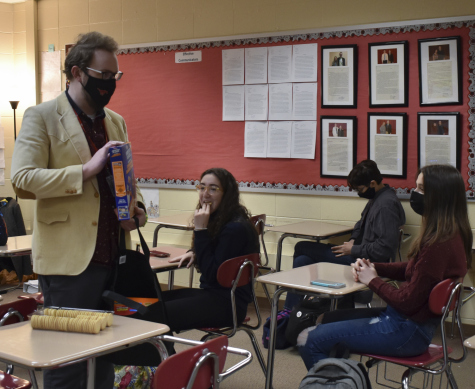 English teacher Mr. Benjamin Boruff never thought he would sponsor so many clubs. But, as Mr. Mike Wells, principal, approached him with the prospect of Poetry Club, then Speech director Mr. Jordan Mayer, English teacher, asked for help with Speech and, suddenly, he had students flocking to him with different ideas to better the school.
Creating a comfortable place for students to open up has always been important to him, and though taking charge in many clubs seemed daunting, he was committed. Staying in school for hours on end, he sponsors clubs that hold a lot of meaning to him:  Poetry Club, Gay Straight Alliance Club (GSA), Munster Mental Health Club and Film Club. 
"I enjoy working with the students," Mr. Boruff said. "And all of those topics are passions of mine. It's been kind of nice that in the clubs that I've been able to work with these particular groups."
Mr. Boruff is passionate about all his clubs and here's why:
SPEECH: "The students are phenomenal and they're all driven to do the work and make their own progress," Mr. Boruff said. "So I am really just there to kind of support and offer technical advice as best I can."
POETRY CLUB: "I believe in the value of poetry and the club. The students are great and Atarah (Israel, senior) has done a phenomenal job leading the club," Mr. Boruff said.
GAY STRAIGHT ALLIANCE CLUB (GSA): "I think it's important that  all students have a safe space to go to," Mr. Boruff said. "There are studies that have shown that just the existence … of a GSA in high school can minimize the discrimination and hate towards LGBTQ individuals."
MENTAL HEALTH CLUB: "Mental health is a big, big passion of mine," Mr. Boruff said. "A few years ago, I was a part of This Is My Brave, a kind of spoken word storytelling event where the goal is to share stories to reduce the stigma surrounding mental illness."
FILM CLUB: "Movies have been a part of my life for quite a while. So when the opportunity came up to be in charge of the film club, I was very excited about it," Mr. Boruff said. "Francis (Hovland, class of '21 and former president) talked to me last year about it and I was pretty excited to have the opportunity."