Editorial: Keeping the show on the road
October 28, 2021
Picture this: You're stuck in traffic on Columbia, lines of cars turning into the school parking lot one-by-one. You think you're running three minutes late but, with a sudden drop in your stomach, you remember that school does not start at 7:35 a.m., but 7:30 a.m. Stuck in an onslaught of honking car horns, you have no other choice but to accept your fate—a tardy. You sit at your car wheel, unable to do much more than move at a snail's pace. 
For many students this year, this scene has been all too familiar. A stricter tardy policy combined with school starting five minutes earlier every day has left students and parents pressed for time. 
Though eradicating traffic as a whole may entail much more systematic effort than simply waking up earlier, there are a few substantial suggestions that both MHS and commuters can easily account for. 
Have designated traffic guides. Having a person of authority outside the school building everyday can alleviate congestion leading directly into school parking lots. Not only on Columbia, but on Fisher Street and leading into the South parking lot, cars are often stuck waiting for their opportunity to turn into the parking entrance, and rarely have a fair chance to do so. Having someone there to mitigate traffic and organize the turning system can prevent long lines of waiting cars.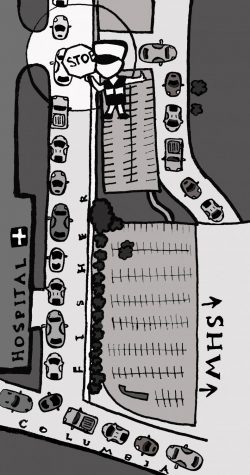 Enter through different doors in the morning. Likely due to eLearning last year, many students are not aware of options other than the main office and auditorium entrance. Using all available entrances, like Door J and Door H would spread out the amount of cars at each parking lot entrance, and reduce traffic in the South parking lot and near the main office.
 Come to school earlier, or stagger arrival times. If you have ever had the opportunity to come to school even five minutes earlier than you usually do, you probably noticed the nearly vacant streets, and easy flow of traffic. Understandably so, as the minutes before the school start time decrease, congestion increases. Specifically, our Crier traffic observations found that cars typically start stacking up at 7:12 a.m. Leaving your house five or ten minutes earlier, even on late start days, can help you avoid some of the holdup. 
On a much more organized scale, the school could explore the option of staggering arrival times for the student body, with one half arriving 20 minutes earlier than the other. This could easily cut in half the number of vehicles on the street at a given time.
Solving this issue is a tall order—depending on how creative you get, the solutions can be endless. Possible answers range from simply entering a different door in the morning, to using some of the $5 million provided to Munster from the American Rescue Plan to rearrange the town. 
No matter the solution, integrating these changes can relieve some of the early morning stress of being helplessly caught in a wave of traffic.