Fabrication Lab has grand opening Oct. 4, various clubs begin to use its resources
Opened on Oct. 4 with the help of Project Green, private donors and the Wanger family, the Fabrication Lab (or, when shortened, the Fab Lab) is a resource room for any club or class to use. 
To help with hands-on projects among the students, three MakerSpace managers have been appointed—Mr. Larry Hautzinger, science teacher and Robotics sponsor, Mr. Peter Frystak, robotics sponsor and Ms. Margaret Matanic, English teacher and Theatre sponsor. Once they are finished training, they will be able to train other teachers so they can carefully use the equipment provided.
 MHS is now one out of about 500 Wanger Fabrication Labs around the world. The school will be able to communicate with other Wanger Labs to share ideas on what to do next.
"Once the three teachers are trained, we can unlock the grid (to collaborate with other labs),in order to connect with other schools around schools and industries around the world," Mr.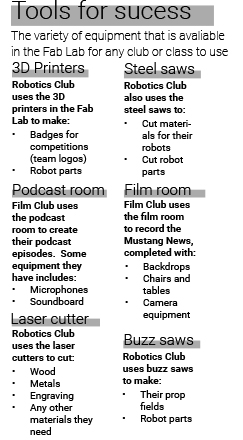 Mike Wells, principal, said."
Not only are clubs like Project Green or Robotics able to take advantage of the room's tools and machines, such as its laser cutters and 3D printers,  but there are also accommodations such as sewing machines, culinary tools and a podcasting room. 
Robotics is in the Fab Lab every Tuesday and Thursday for two to three hours. In addition to Robotics, the Fab Lab is also providing the Film Club with two rooms for their podcasts and Mustang News. The rooms provide a teleprompter and computer for editing Mustang News and the podcast room provides microphones and a soundboard. 
"The last time I was there we were finishing setting up some stuff, and as of right now, it looks really nice for what we need to do," Alyssa Sangueza, senior and vice president of Film Club, said.
To access the equipment, students will have to be with a teacher who has been taught by the trainers from the Museum of Science and Industry to show the students how to use the equipment safely.
"I think that Fab Lab is an amazing achievement for our school," Antonio Cantu, senior and president of Robotics, said. "I absolutely love the new lab and all the amazing things to create anything we want."