TikTok continues taking the world by storm: our take on TikTok trends
Crier staffers rate and recreate popular TikTok trends with their own twist
Anna Evilsizor
Buzzing to your TikTok: Frozen honey is the summer's sweetest treat
By Lauren Hoogeveen, Page Editor
"
I would rate this three and a half out of five stars."
— Lauren Hoogeveen
Keeping cool and curing boredom, TikTokers across the world have been making frozen honey. It is as simple as its name—just throw some honey in the freezer for a couple hours and enjoy. 
I expected the honey to be more solid, but it remained pretty soft. For someone who does not like honey, I genuinely thought it was good. As expected, it was very sweet, but freezing the honey made it into a cold gel—which may sound strange, but it helped tone down the sweetness. 
Overall, frozen honey was not as sickening as it seemed. The coolness seemed to add a melt-in-your-mouth factor that was nice. I would rate this three and a half out of five stars. Frozen honey is not something I'd make as a snack and eat regularly, but it was fun to try.
Taking your hearts: Pinterest cookies are TikTok's tastiest trend
By Lauren Hoogeveen, Page Editor
Slowly rising to the top of TikTok's discover page, this new recipe has grabbed the attention of TikTok's bakers. Frequently referred to as the "Pinterest cookies," this quick and easy recipe is just an almond shortbread cookie with heart-shaped jam in the middle. 
"
I would rate the cookies five out of five stars."
— Lauren Hoogeveen
You can use any shortbread or sugar cookie recipe for this, since the main defining feature of the recipe is the heart shape in the middle. I made the cookie dough and gathered all the other ingredients to prepare for the part I was most excited about—making the little hearts in the middle. After much pondering, I decided to use the end of a butter knife to make a small heart imprint in the middle of each cookie. Although it was not as easy as the videos made it seem, after a couple practice cookies, I got the technique down.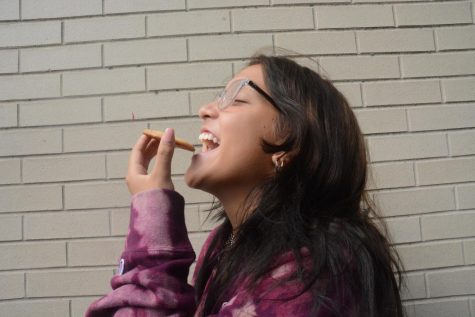 After the cookies baked, I drizzled a glaze on top and let them rest. In short, these cookies were delicious. They looked lovely and tasted even better. There was the perfect balance of jam and cookie— not too much, not too little. I would rate the cookies five out of five stars. These cookies were so fun and refreshing to make, and would be such a nice gift or cute treat to make during the holidays. 
Need a break? Adult Swim videos are keeping TikTok's creativity flowing
By Alexis Perez, Design Chief

"

I would rate the Adult Swim trend four out of five stars.   "

— Alexis Perez

Expressing their artistry, TikTokers are making some intriguing videos that consist of the abbreviation of Adult Swim. The whole point of the videos is to imitate the popular TV commercials that Adult Swim makes and to show off the creativity of others. You can create any type of video that is engaging to the viewers, as they are typically aesthetically pleasing to watch.

As seen on Adult Swim, some of the real commercials don't make any sense. I've seen some videos where the whole video was created with cardboard, or someone being in a work space and the [AS] is somewhere else on the messy desk.  It's interesting to see what people can do with their own creativity. 

When I created the video, I had to get into a creative mood to brainstorm the finale—the iconic [AS]. I soon decided I wanted to show the stress of starting a new school year and how overwhelming it can be. I was most confused by how I was going to incorporate the [AS] in the video, but I think it turned out well. It was fun to design a video that seems simple at first glance, but also stays open to interpretation by the viewer. I would rate the Adult Swim trend four out of five stars.  

Lauren Hoogeveen