'It feels more complete': Students look forward to a fulfilling year
The transition from eLearning to in-person brings underclassmen and juniors high hopes for this year
Clusters of students create a swift walking pace. Bodies block signs on the wall. The doors all blur into one and pounding anxiety looms in the air. The stress of a new environment hits students at full force—this is what Annie Fuller, freshman, experienced on her first day. 
"It was pretty stressful finding my classes on the first day of school," Annie said. "I ended up getting lost on my way to Ancient History, but, luckily, a Link Crew member heard me telling my friends I was lost and she helped me out." 
It was especially strange for those who were seventh graders when the pandemic first began. The sudden shift from a normal seventh grade year to a freshman year filled with uncertainties had an impact, their year of online learning resulting in lost time. Adjusting to this year, students are trying to catch up on lost time from online learning. 
"(Being online) last year took a toll on my GPA towards the end of the semester since everything kept on feeling super optional," Janai Munoz, junior, said. "It felt like summer again and I could blow off classes, when that was not the case. It is easier knowing that I have an actual school environment to go to instead of just being stuck in my room all day or at the dining room table."
With only the senior class completing a full in-person year, those who are transitioning from online to in-person are seeing the benefits of in-person learning. Returning to the school environment often-times gives a boost of motivation, contrasting the lax feeling of being at home. The last action to take is to get into the mental state of being back in class. 
 "All the students—they actually are interacting," Diego Quiroga, sophomore, said. "It takes a little more time to get used to for the kids who preferred being at home than the ones that were here."
While adapting to the more rigorous workload that comes with being in-person, students focusing on the positive social opportunities helps them to get through the day. Additionally, in-person school permits many extracurriculars to once again gather and allows students to participate in activities.
"I am really excited and hoping that we are able to do a lot more than we did last year," Miranda Fisher, sophomore, said. "Last year, everything was restricted. This year, since we are in-person, we are actually able to meet people and do more things. It feels more complete. I'm hoping that we will be able to do more things physically without as many restrictions."
Leave a Comment
About the Contributors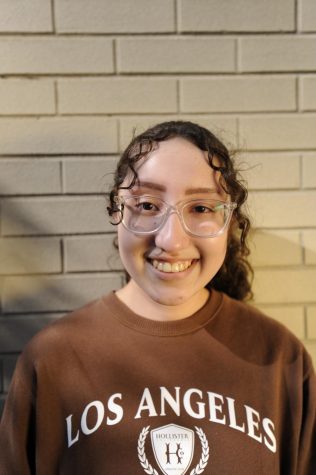 Sofia Sanchez, Page Editor
Hi! I'm Sofia and I'm a sophomore. This is my first year as a page editor on Crier. I enjoy learning about science and listening to music. A fun fact about...
Josephine Mittelberger, Guest Editor
Hi! I am Josephine Mittelberger and I am a guest editor. I am currently a senior in theater and philosophy club as well. A fun fact about me is that I...