One last dance: Seniors celebrate Prom
After an unprecedented year, seniors celebrate the culmination of their year with an outdoor prom
May 12, 2021
Two weeks ago Prom court was announced, and Ethan Buck, senior, was in for a surprise. As this year's Prom King, the win was an unexpected victory for him and his friends.
Ethan Buck, senior: It was kind of a surprise. The Monday of the voting a friend took a picture of me and just said, "Hey, we're telling everyone to vote for you," and I was like, "Okay."
Anna Speckhard, senior: This whole year me and my friends have been trying to get Ethan Buck to be Prom king. We've just kind of had it in our minds, and then last week, the day that they opened up Prom voting, was the day I was in Choir with Ethan. So, before school even started, I just took a picture of him and me and I put it on my Snapchat story and was like, "Go vote for Ethan Buck!" Within our Munster circle it went a little bit viral. I had a bunch of people screenshot my story and repost it. That was a really fun time.
Ethan: (It feels) exciting. I didn't think I would be. I'd never thought I'd actually be voted for Prom king and such."
Anna: It's kind of funny though because I actually went with Andrew Wittcamp (senior), and he was also on court, but he's also part of the group that really wanted Ethan to win. I was like, "Hey bestie, so sorry, I'm gonna to vote for Ethan and not for you," and he was like, "That's okay I'm voting for Ethan too." 
Andrew: We thought that he was just really deserving of it because of who he is as a person, and how he carries himself. Our friends thought was the most important at the end of the day—how how people treat each other.
After a school year of partial eLearning and restricted school activities, seniors enjoy a night of reunification and celebration.
Demetrios Fotopoulos, senior: I'm happy it happened, and I'm happy we got to have a unique experience that might never be replicated at MHS. There was something very homey and heartfelt about the parking lot Prom, especially having it between the middle school which we spent three years and at the high school, which we spent four years at. There was something very intimate about having that closeness and these two places.
Taylor Olmstead, senior: I feel like senior Prom is already such a special thing, but I feel like this year it's more special because it was our senior banquet all together, and I haven't seen some people since last March. I feel like that just makes it even more special because you're just gonna be seeing people that you haven't talked to or seen in forever. (You) just get to reconnect.
Noah Poole, senior: I think it's special because it's symbolic of everything that we went through. What we went through can mean a lot of different things to a lot of different people, and not everyone had the same experiences with this whole pandemic, but I think the one thing that we can all agree on is nothing has been normal. By having a prom, even if it's not normal, shows that we've been able to become accepting of things, and more thankful for the things that we always took for granted before.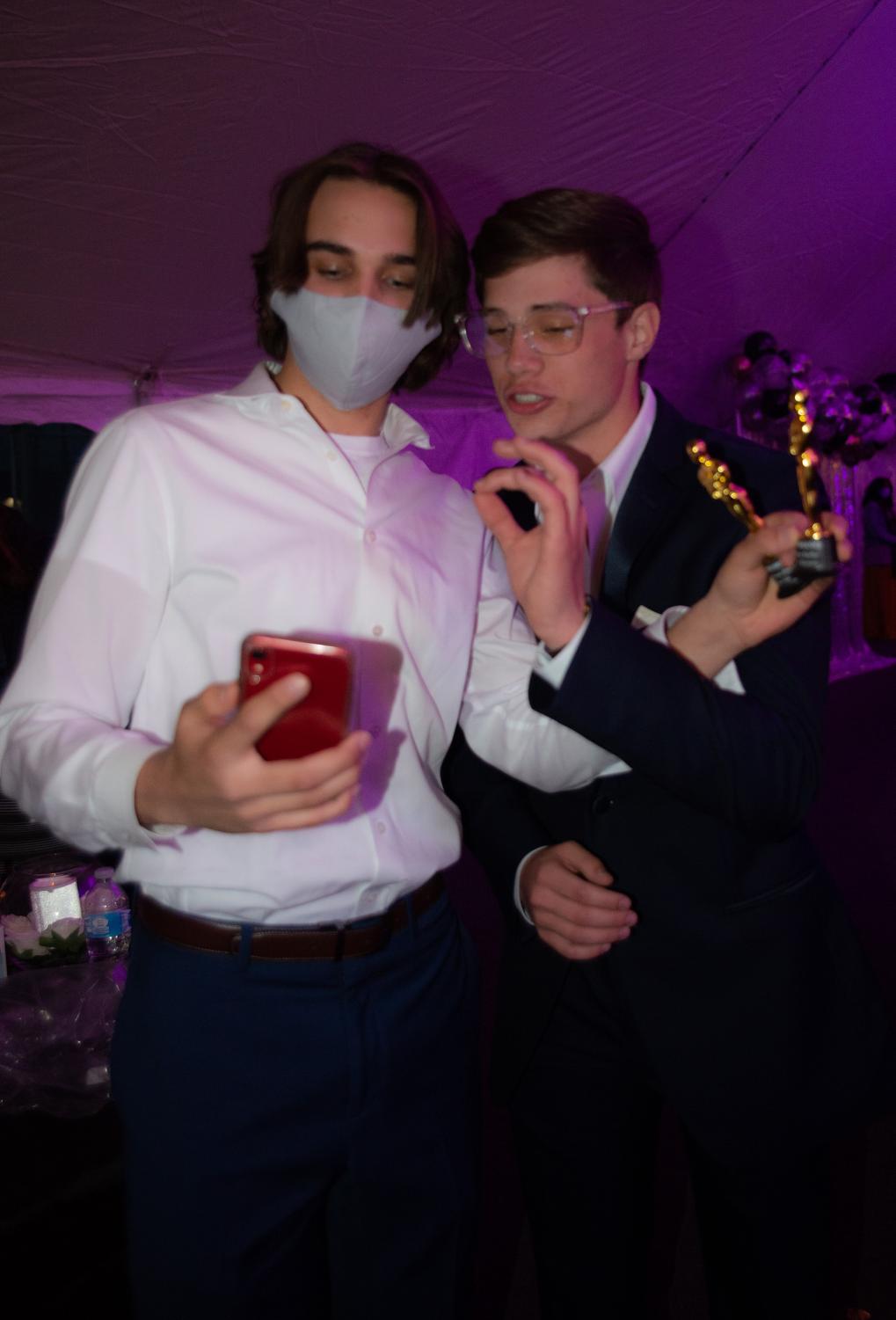 Mikey McDunn, senior: I think being able to see everyone was why Prom was special. We haven't been able to all be together in a really long time. And, obviously, being able to talk to the seniors. Graduation may not even be the same either. We're still split up, so prom was all there was.
Anna Speckhard, senior: Also, I need everyone to make sure that they think Ms. (Kristin) Szafasz (social studies teacher) and Mrs. (Valerie) Pflum (math teacher), because they spent so much time putting it all together, and it turned out so so so well. So, we have to make sure to thank them for their amazing job, and all the teacher volunteers who were there, and all the administrators who let it happen, because they deserve recognition for that. 
Maureen Van Matre: I think it's so significant for the senior class to have it this year because we missed out last year having a Prom, and (were not) able to have a Homecoming or Turnabout this year. I think it's just really special that we kind of get to end the year on a high note when we're all together and reunited with classmates and peers that we haven't been able to see in a while.