Girls' swim finish postseason while Boys' swim starts their postseason
Boys' Swim compete at Sectionals tomorrow. Girls' Swim finished their season at State last week
Despite COVID-19, Boys' and Girls' Swim have been able to have a season, and are nearing the completion of it. Girls' Swim have completed their season with second place at Sectionals and individual wins at State. 
Boys' Swim completed preliminaries for Sectionals yesterday, and have finals tomorrow at Munster. 
"A lot of the guys on the team have been out for two weeks because they might have had a scare or actually had the virus," Mikey Dempsey, captain and senior, said. "That really sucks because with swimming you need to go every day twice a day, or else you won't have the endurance to race your best. So if you're out, you have to do whatever you can while you're at home to stay in shape. That's really difficult because in the winter not everyone can go to a pool or have the equipment they need."
COVID-19 has not only impacted Boys' and Girls' Swim physically, but mentally. With COVID-19, both teams are more isolated. They can't be close to each other in practice or meets, they can't have their parents' or friends' support or do their team cheer before each meet.
"We're all trying to have a positive mindset and just swim as best as you can, especially since we have this season while the sports can happen," Priscilla Zavala, captain and junior, said. "We've been pushing through."
Now, as Boys' Swim is anticipating the final stage of Sectionals, they also look forward to State. 
"Last year we were runner up at State; that was really huge for our team," Karl Larson, captain and senior, said. "We haven't gotten anything like that in ten years. So it's really great that we have that background, so that we know that we can do well at Sectionals and get down to State and have some good performances."
After tomorrow, it will be the end of the Boys' Swim season. 
"I'm just so thankful we had a season this year I really didn't think we were gonna have one at all, but in a really great season," Mikey said. 
Leave a Comment
About the Contributors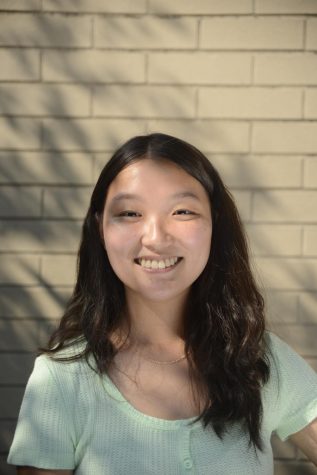 Alison Lee, Deadline Manager
Hi! I'm Alison and I'm a senior. I'm the deadline manager. I'm in cross country, DECA, Project X, YAT, and CEC. I love to bullet journal and write. A fun...
Bailee DeJarlais, Photographer
Hi I'm Bailee DeJarlais! I am a junior and it is my first year being on staff. When I am not contributing to the crier I attend the following clubs: cec,...