Food for thought
Students have taken up cooking, and share their reasons why
As the end of the year comes closer each day, students once again find that they are preparing for the holidays to come.  The upcoming season will bring many families together to dine. Perhaps most prominently to be observed is Thanksgiving's traditional multi-course meals that make everyone at the table feel as stuffed as the turkey they just consumed.
It so happens that previously in the year, when Americans were under quarantine that culinary arts had begun to trend amongst the masses. Although this fad has taken a back seat as life began to return to normal, it left many students with a newfound appreciation for the kitchen.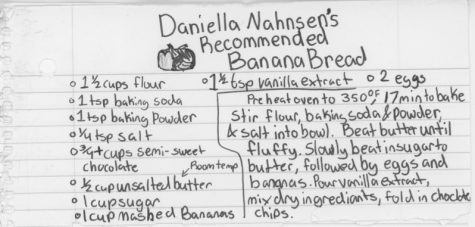 "Baking and cooking are both two ways I love to express myself," Daniella Nahnsen, sophomore said. "Sharing a unique blend of tastes to create a perfect mixture, like in the movie 'Ratatouille'."
Spending time on creating dishes to taste and enjoy is indeed a great way to explore one's own personal skills and preferences.
"I would recommend baking and cooking to others because it gives you a chance to find out what you like," Sydney Frantal, sophomore, said. "If you don't try then you'll never know."
For some having an abundance of newfound free time was the push they needed in order to explore this new hobby.
"Cooking is interesting to me because I always thought it would be a neat Christmas hobby," Christopher Perez, senior, said. "Quarantine gave me the chance to pursue it."
For others, this past-time is a way to connect themselves with foods of the world, as well as expressing their own heritage.
"It is very fun and relaxing, time-consuming too, but an overall way to view yourself and other cultures," Sydney said. "It allows you to connect with numerous things. I am Polish and Slovak, so I make some traditional items around the holidays."
By having a foundation for their interest to build off of, these students have started to gain experience. With still more to learn, they are still able to spare a few helpful tips, like following intuition.
"One habit I picked up along the way is to not always rely on direct measurements from a recipe. Trust your senses and let your taste buds lead the way," Daniella said. 
Sydney relies on the orderly aspect herself, finding the steps in a recipe to be soothing, and being tidy beneficial.
"I always clean my workspace as I'm baking," Sydney said. 'I feel as though it is overwhelming to have so many things together. It also helps you limit the amount of time you are cleaning up your station."
Overall, the consensus is that cooking is a worthy endeavor to partake in and is encouraged by the culinary community not only for the pleasant experiences, but also for the sake of independence.
"It never hurts to try something new. Cooking is an important life skill to have because eating is a part of our everyday lives," Daniella said. "I mean, would you rather have grilled cheese for the rest of your life and gain the freshman 15, or live off of healthier alternatives while still being cost efficient?"