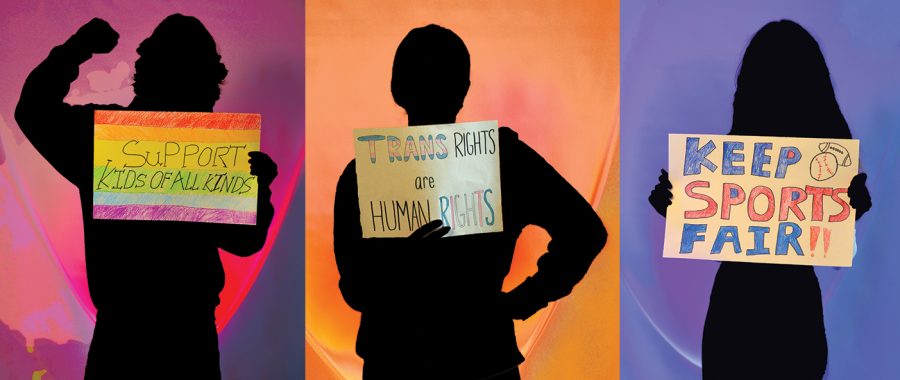 Inclusive or exclusive: Students and staff discuss recently vetoed HB 1041
Amidst a surge of anti-LGBTQIA+ laws throughout the nation, students and staff react
March 22, 2022
Preposterous. Unthinkable. Ridiculous. These were the words that flooded freshman Charlie Ilijevski's mind upon hearing of House Bill 1041.
"I personally think it's very unnecessary, very transphobic and something that no one should even propose," Charlie said. "Everyone has advantages of their own. If we ban trans girls from playing on the team they should play on, then why don't we ban people that are over six foot from playing basketball since they have a bigger advantage? I just think it's going a little overboard."
The Indiana bill states that K-12 and athletic organizations' sports teams are to be designated as male, female or mixed. The bill would have prohibited transgender girls from joining a sports team that has been designated as girls' or women's. HB 1041 does not mention transgender boys. On March 21, Governor Holcomb vetoed the bill. Legislators will convene May 24 and take a vote on whether to override the veto. The Indiana High School Athletic Association's policy presently requires that all transgender athletes complete a year, at minimum, of hormone treatment related to a gender transition or medical gender reassignment procedure. The policy states that testing must be done to confirm a student does not possess physical advantages over their peer athletes.
"In education, our goal should always be to be as inclusive as we possibly can," Ms. Beth Raspopovich, Assistant Athletic Director, said. "But I also believe there is an inherent advantage for people born male at birth compared to people born female at birth. You have to take into consideration not only (how) it affects that person, but (how) it affects those people that are on the team with that person as well."
This year has seen more than 150 anti-LGBTQIA+ bills introduced across the nation. On March 8, the Florida Senate passed the Parental Rights in Education bill that prohibits classroom discussion about sexual orientation or gender identity from kindergarten through third grade. Widely known as the Don't Say Gay bill, it has sparked protests and student walkouts throughout the country.  In early March, Iowa passed a bill also prohibiting transgender girls and women from joining girls' and women's sports teams.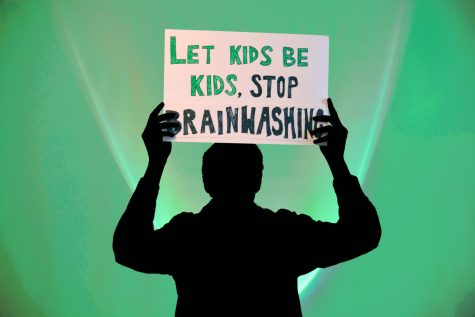 "I don't think anybody cares that much in a serious manner about fairness and sports to that extent," Alyx Salamanca, junior, said. "They're specifically targeting trans girls. In every conversation about trans people, the focus is trans women and I find that extremely misogynistic because trans women have a very specific set of struggles that they go through. It shows how a lot of people have a really hard time humanizing trans people."
HB 1041 can cause the mental health of transgender and gender diverse youth (TGD) to deteriorate, who already are at four times greater risk of depression, according to the Journal of Affective Disorders. Some students worry such a bill would have amplified these hardships and harmed TGD students.
"There's just so much stigma and such a lack of education that people don't feel comfortable enough to feel these things, they can't even know what they align with, and don't even think they're allowed to do so," Tayo Clark, senior and GSA president, said. "For example, I was at a support group the other day, and there was a grandparent who couldn't even come out as gay until he was 69 years old. He just simply didn't have the language nor did he understand that it was okay to feel that way, and he held that inside for his entire life. That's messed up."
Tayo and Charlie held a meeting March 8 with Mr. Mike Wells, principal, to discuss ways to help the LGBTQIA+ community at MHS. Introducing pronouns on the first day of school and more awareness of gender neutral bathrooms, among others, are examples of the proposals made. Implementation of these proposals is currently in discussion with the administrative team. According to Lucy MacDonald, junior, the small step of respecting one's pronouns can make all the difference.
"It shows that we still have a long way to go with how much Indiana needs to change while the rest of the world is progressing," Lucy said. "It's so easy to respect someone's pronouns and their identity. Everyone has pronouns and respecting them is literally two seconds out of your day. You don't have to do anything, just be respectful towards trans youth and trans people in general. They're just like you and me. There's nothing wrong with them."